Advertisement

Israel's military said that it found and demolished another cross-border tunnel dug by Hezbollah from Lebanon…reports Asian Lite News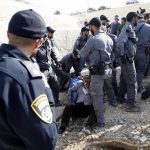 A military spokesperson said the tunnel, dug by the Lebanese militia from the village of Ayta ash Shab and crossed into northern Israel, was uncovered several days ago and "neutralized by an explosion" on Wednesday afternoon.
The spokesperson said that the UN Interim Forces in Lebanon (UNIFIL) was notified in advance.
According to Israel, the tunnel is part of a network of tunnels dug by the Iranian-backed Hezbollah militia in order to attack Israel. On December 4, the army launched an operation to "locate and thwart" these tunnels.
"The IDF (Israel Defence Forces) holds the Lebanese government accountable for the attack tunnels dug from Lebanese territory," the military statement said, adding that it was "another blatant violation of UN Resolution 1701 and Israeli sovereignty."
Hezbollah has not yet responded.
Israel and Hezbollah had a month-long war in 2006 that ended in a cease-fire.