Advertisement

An energetic drummer got on the stage with an ensemble of musicians from Iran, Spain, Reunion Island – and from Rajasthan in India – to set on a collaboration in pairs and in quartets. The occasion was the finale of the annual Jodhpur RIFF — and the musicians awed the gathering with what they laid forth in the moments that followed…reports Asian Lite News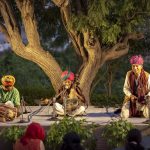 People in the audience were all set as the stage of the city's annual Rajasthan International Folk Festival (RIFF) was soon to present the most sought after event of the festival — "RIFF Rustle", which is nothing short of magic.
The Jodhpur RIFF had its finale stretching from enthusiastic night-time revelries like rustle at the majestic Mehrangarh Fort to finally concluding at the dawn concert with the recital of 'thumri' and 'dadra' by Hindustani classical singer Vidya Rao against the backdrop of a temple at Jaswant Thada.
The annual folk music and dance festival has a tradition of holding a large collaboration event where one artist, referred to as the 'rustler' gathers others to perform together. At its 11th edition, Australian drummer Gene Peterson curated the set.
The line-up of artists for the festival is usually designed by keeping the tastes of a variety of audiences in mind, fusion is certainly their forte.
So, the much anticipated rustle had Iranian sounds and their instrument tar fused with Peterson's drums and showcase of human beatboxing by his very talented companion from Australia Tom Thum. Thum continued his incredible technique of vocal percussion using his mouth, lips, tongue, and voice to resonate with the voice of the Iranian artist Makan Ashgvari.
Then came Spanish girls Olaia Maneiro, Sabela Maneiro and Aida Tarrio with their tambourines, accompanied a man on accordion and another one on the guitar to jam with Peterson.
In an earlier performance, the girls collaborated with the Rajasthani men. Their overall music came across as nothing like fusion because the two styles resonated in a way that it didn't sound like there were musicians from different countries playing two disparate kinds of instruments. It was something like never heard before.
Post their performance, Festival Director Divya Bhatia, in a conversation with the girls, himself admitted that in the last 11 years of RIFF, this was the first time that a band with female leads fused with the Rajasthani musicians on their indigenous instruments like Khartaal, Kamaicha, Morchang, and Saarangi among others and they completely rocked it.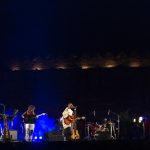 The rustle had Tiloun Ramoune from Reunion Island along with his band members on drums and Congo collaborating with Rajasthani dhol players.
Towards the end, the audience witnessed a fantastic Jugalbandi between the Australian men and those from Rajasthan — which got everybody on the floor moving, grooving, hooting, and whistling.
The audience in the front which got too undisciplined and rowdy was suddenly numb when Thum gave a show of beatboxing where he presented a glimpse of music from parts of the world — from the west to the middle-east to other regions.
Earlier in the day, Australian band Bush Gothic, performed their unique oeuvre of sung-stories. Defiantly modern but achingly old, this daring band from Melbourne performed songs of criminal women and desperate men from an era of transportation, adventure and gold.
A unique Welsh-Indian collaboration that began at RIFF in 2017 came back this year in a new format — story teller Angharad Wynne and composer, singer-songwriter Gwilym Morus-Baird created a tapestry of story and song together with classical Sufi singer Smita Bellur, master kamaicha player Dharra Khan Manganiyar and others.
The annual Jodhpur RIFF has carved a niched for itself in the Indian music space, and aims to give back to the society by involving local musicians in workshops, seminars and residencies, where they are trained by the masters in the field and are provided with musical instruments.
Unlike most other cultural festivals in India, the Jodhpur RIFF does not run on the sponsorship concept but is a joint initiative of the Mehrangarh Museum Trust, John Singh and Jaipur Virasat Foundation. The festival has been previously endorsed by UNESCO as a "People's Platform for Creativity and Sustainable Development.
Timed every year to coincide with "Sharad Purnima", the brightest full moon of the year in north India, Jodhpur RIFF features a series of spectacular concerts and events based in and around Mehrangarh Fort.
The 11th edition of the festival that brought to fore an eclectic mix of roots musicians was held from october 24-28.