Advertisement

Malaysian Prime Minister Mahathir Mohamad  urged members of the Association of Southeast Asian Nations (Asean) to engage in fair and mutually beneficial trade and investment cooperation…reports Asian Lite News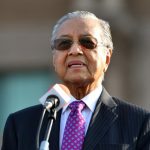 Addressing the Asean Business and Investment Summit (ABIS) being held ahead of the Asean Summit this week in Singapore, Mahathir called on Southeast Asian nations to enter into Free-Trade Agreements (FTAs) such as the Regional Comprehensive Economic Partnership (RCEP).
"What we require is fair and mutually beneficial trade and investment cooperation rather than the dominance by anyone", Mahathir said during the keynote speech at ABIS 2018.
The RCEP is a proposed deal between the 10 Asean members and six Asian-Pacific states with which the regional bloc has existing FTAs — namely China, India, Japan, South Korea, Australia and New Zealand.
Mahathir pointed out that 65 per cent of the regional bloc's trade was with the 16 members of the proposed RCEP, and when implemented, would be a huge market in its own right, representing half of the world's population and over 40 per cent of global trade.
"We must therefore leverage on the existing high level of trade linkages", Mahathir said, while warning that members "must not just accept trade and investment measures that may be unfair to Asean nations and Asean economic integration".
Mahathir has been critical of some China-backed infrastructure investment deals, saying Malaysia could not afford them and calling them unfair.
Since taking office in May, he has cancelled the $20 billion East Coast Rail Link as well as gas pipeline projects worth more than $2 billion.
Asean consists of Indonesia, Thailand, Singapore, Malaysia, the Philippines, Vietnam, Myanmar, Cambodia, Brunei and Laos.