Advertisement

Wall Street closed with heavy losses, the Dow Jones Industrial Average falling 2.32 percent on a day marked by concerns about a deceleration in world economic growth and plunges in tech giants such as Apple, which fell more than 5 per cent…reports Asian Lite News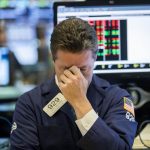 At the close of regular trading, the DJIA – the main indicator for US stocks – had lost 602.12 points, coming to rest at 25,387.18, while the S&P500 index fell 1.97 percent to 2,726.22 and the NASDAQ index – which includes the important tech companies – dropped 2.78 percent to 7,200.87.
Almost all market sectors ended the day in negative territory with tech stocks falling 5.54 per cent, discretionary consumer goods by 2.31 per cent, energy 2.14 per cent and both finance and industrials by 1.99 per cent.
Only the real estate sector was in the green, with a slight rise of 0.20 per cent.
Wall Street analysts blamed investor pessimism as the backdrop for concerns about economic growth that they fear may have reached its peak.
Also, investors were said to be fearful of new tariffs resulting from trade tensions and the Federal Reserve's potential interest rate hike next month.
It seems that any bit of negative news is being punished by the market, as was the case with Apple's reported drop in demand for its new iPhone and news about a persistent regulatory problem for Goldman Sachs, both of which were down heavily on Monday.
With its slide, the value of Apple's outstanding shares dropped below the $1 trillion threshold.
In other markets, West Texas Intermediate Crude fell for the 11th session to $59.03 per barrel, gold dropped to $1,201.10 per ounce, the return on 10-year Treasury Bonds retreated to 3.186 percent and the dollar gained ground against the euro, which closed at $1.1221.