Advertisement

Indian Prime Minister Narendra Modi and his Bangladeshi counterpart Sheikh Hasina on Tuesday jointly e-inaugurated the construction work of a cross-border oil pipeline and a railway project, with the former describing the two countries as members of the same family…reports Asian Lite News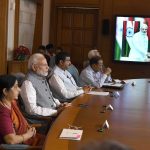 Hasina and Modi joined the event in the evening via video-conferencing from Dhaka and New Delhi, respectively.
The 129 km India-Bangladesh Friendship Pipeline connecting Siliguri in India with Parbatipur in Bangladesh will transport petroleum products from Numaligarh Refinery in Assam. Of the total length, 124 km will be constructed in Bangladesh and 5 km in India.
"Geographically we may be neighbours, but emotionally we are members of the same family," Modi said while addressing the programme.
"Our mutual cooperation in the last few years has shown the world that when two neighbouring countries strive to work together, what all can be achieved," he said.
"Whether it be a decades-old border problem or development aid cooperation project, we have made unprecedented progress on all issues."
At the same event, the ground-breaking ceremony of a rail project to improve Dhaka's connectivity with Tongi and Joydebpur, two towns on the outskirts of the capital city, was also held.
Officials said 48.80 km of the two new dual gauge rail lines would be constructed on the Dhaka-Tongi route and a 12.28 km new dual gauge railway double line on the Tongi-Joydebpur route.
Tuesday's inauguration of the two projects came a little over a week after both the Prime Ministers inaugurated two railway projects and an electricity project on September 10.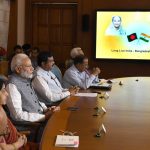 Stating that the pipeline will further boost bilateral cooperation, Modi said that energy was the cornerstone of any country's development.
"The pipeline will help in the development of the northern Bangladesh. Though it is being done with grant-financing from India, the project will be dedicated to the people and government of Bangladesh once completed," he said.
Modi said the railway project will not only bring relief to road traffic in Dhaka, but also boost freight revenues.
Speaking from Dhaka, Hasina said that ever since she formed her government in Bangladesh in 2009, she has been working relentlessly to deepen ties with India.
She thanked Modi for the new projects which she said will help in Bangladesh's development.
External Affairs Minister Sushma Swaraj and Petroleum Minister Dharmendra Pradhan joined the video conference from Delhi and Bangladeshi Foreign Minister Abul Hassan Mahmood Ali from Dhaka.