Advertisement

Born in Khandra in Panipat, Haryana, to a farmer's family, Asian javelin throw champion and the new poster boy of Indian athletics, Neeraj Chopra, says his struggle to give the best to his family as a young boy and achieve his goals motivated him to reach where he had…reports Asian Lite News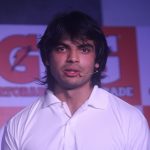 Chopra, who not only got Gold in javelin throw at Commonwealth Games but also at Asiad 2018 — where he threw a distance of 88.06 m in the Men's evnt and set a new Indian national record, bettering his own previous one.
However, little did he know his passion for this game when he was 11. Weighing 80 kg, his introduction to the game was incidental when he visited the Panipat Stadium in his bid to lose weight. He quickly took a liking for the sport and the rest, as they say, is history.
Talking about his past, Chopra told IANS here: "If I were going thorough the same struggle today, I would have quit. I might have opted for other fields. That was the time when I was going through strenuous training practices and was focussing a lot to maintain myself as a sportsperson. Even I had to keep my family happy and live upto their expectations so all these factors motivated me and still motivates me."
"I think my struggling time has become my motivation now," he added.
Before bagging golds at these two events, Chopra was the 2016 IAAF (International Association of Athletics Federations) World U20 Champion and set the world junior record of 86.48m. He was also selected as the flag-bearer at the opening ceremony for India at the 2018 Asian Games in Jakarta, which marked his first Asian Games appearance.
The champion's return after his big international win was celebrated at an event organised by Gatorade here where the sports drink brand welcomed its ambassador with actress Mandira Bedi.
He shared some of his life lessons with the fitness enthusiasts present at the event. "When we start from a small place, there are times when you feel like giving up as we lose strength to fight with situations. However, that is time when your true patience is tested so make sure you keep faith in yourself intact. You have to keep pushing yourself that you will succeed. You should never quit and just try hard to give your best."
So what are his next goals?
"Post my win at Commonwealth Games and Asian Games, I would like to give the same performance in Olympics (2020)and World Championship in 2019 and get Gold for India again," he said.
"Now people have started acknowledging athletes and I feel that more such performances will increase their importance. Asian Games gave a new hope to the athletes and I wish this to continue," he added.