Advertisement

Thirty-four years after the gruesome killings, the Delhi High Court convicted Congress leader Sajjan Kumar in an anti-Sikh riot case of 1984 here and sentenced him to imprisonment for the remainder of his natural life, holding that the violence was a "crime against humanity" engineered by politicians with assistance from police…writes Amiya Kumar Kushwaha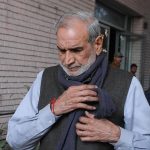 Setting aside the acquittal of Sajjan Kumar and five others by a trial court, the court convicted them saying that the "criminals" had escaped prosecution and punishment for over two decades.
"This court is of the view that the mass killings of Sikhs in Delhi and elsewhere in November 1984 were in fact 'crimes against humanity'. They will continue to shock the collective conscience of society for a long time to come," a bench of Justice S. Muralidhar and Justice Vinod Goel said.
"The mass killings of Sikhs between 1st and 4th November, 1984 in Delhi and the rest of the country, engineered by political actors with the assistance of the law enforcement agencies, answer the description of 'crimes against humanity' that was acknowledged for the first time in a joint declaration by the governments of Britain, Russia and France on May 28, 1915 against the government of Turkey following the large-scale killing of Armenians by the Kurds and Turks with the assistance and connivance of the Ottoman administration," the court said.
Recalling the summer of 1947, the court said that "during partition, this country witnessed horrific mass crimes where several lakhs of civilians, including Sikhs, Muslims and Hindus, were massacred".
Thirty-seven years later, the country was again witness to another enormous human tragedy. Following the assassination of Indira Gandhi, the then Prime Minister of India, on October 31 1984 by two of her Sikh bodyguards, a communal frenzy was unleashed, the court observed.
For four days all over Delhi, 2,733 Sikhs were brutally murdered, their houses were destroyed. In the rest of the country too thousands of Sikhs were killed, the court noted.
"A majority of the perpetrators of these horrific mass crimes enjoyed political patronage and were aided by an indifferent law enforcement agency. The criminals escaped prosecution and punishment for over two decades," the court said.
The case against Sajjan Kumar and others was registered in 2005 on a recommendation by the Justice G.T. Nanavati Commission.
"While it is undeniable that it has taken over three decades to bring the accused in this case to justice, and that our criminal justice system stands severely tested in that process, it is essential in a democracy governed by the rule of law to be able to call out those responsible for such mass crimes.
"It is important to assure those countless victims waiting patiently that despite the challenges, truth will prevail and justice will be done."
Sajjan Kumar and five others were tried in the case involving the killing of five Sikhs — Kehar Singh, Gurpreet Singh, Raghuvender Singh, Narender Pal Singh and Kuldeep Singh, who were from the same family — by a mob in Delhi Cantonment's Raj Nagar area. he trial court had acquitted him.