Advertisement

Days after it was satellite-tagged and released, an Amur falcon "Manipur", eponymously named after the northeast Indian state bordering Myanmar, was allegedly shot down by unknown miscreants at a roosting site during its migratory passage through the region…reports Asian Lite News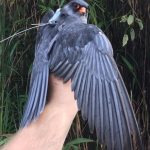 The incident has prompted the state government to discuss cancellation of gun licenses (air guns) in the next Cabinet meeting while a district administration has imposed a ban on air guns in the aftermath of the incident.
Meanwhile, wildlife biologists associated with the tagging exercise will kick-off landscape-level surveys across river valleys in Manipur to ascertain the status of roosting sites.
Amur falcons are known to breed in southeast Russia and northern China and migrate west through India and across the Arabian Sea to southern Africa where they spend their winter, making a round-trip of at least 20,000 km every year, travelling between their breeding and wintering grounds.
This arduous journey includes a non-stop flight over the Arabian Sea after passing across India. The resilient falcons arrive in large numbers during October in Nagaland and a few other places in northeastern India, including Tamenglong in Manipur.
"Manipur", a male migratory raptor, was one of the two Amur falcons to be tagged for the first time in the state. The second bird, a female, was christened "Tamenglong" after the district where it was captured and released. Both were captured on November 4 and released in the morning the day after.
The exercise in the remote community forest area of Chiuluan village along the Barak river in Tamenglong district of the state was undertaken by a team of officials led by Suresh Kumar of the Wildlife Institute of India, the state Forest Department under DFO Arun R.S. and biologists from Hungary.
"It was quite a challenge to capture the birds because they were roosting in bamboo groves. The release coincided with the ongoing Amur falcon festival. It was going perfectly. While 'Tamenglong' went back to her roosting site along the Barak river, 'Manipur' flew across to another river valley along the Irang river which is across one ridgeline," Suresh Kumar said.
"We did not know there was a big roosting site there," Suresh Kumar told Mongabay India. Manipur's flight to a roosting site along the Irang river got officials worried.
"We were worried whether there would be prevalence of hunting or not, so we got an official order released by authorities in Tamenglong that these birds should not be hunted," Suresh Kumar said. Villages like Bhalok in Tamenglong, where falcons were known to roost in large numbers, were already helping protect the falcons.
"We now know from the data (the tag was retrieved) that unfortunately on November 8 between 6 a.m. to 10 a.m. this bird was shot. And it was not only this bird there must have been many birds that were shot," Suresh Kumar said. "Manipur" was felled at Kebuching bordering Tamenglong and Noney districts of the state along the Irang river.
Soon after the killing, Noney district also banned use of air guns and catapults.
According to a state government release, Amur falcons spend three to four weeks in many parts of Manipur to build fat reserves by foraging on termites that emerge during this time. Forest officials said their presence keeps insect pests at bay and benefits farmers.
In Tamenglong district, extensive awareness campaigns and volunteering activities spearheaded by forest department officials in collaboration with local community members in villages like Bhalok had led to "zero-killing" of the annual winged visitor in that village over the years, informed Tamenglong DFO Arun. Bhalok has been declared as "Amur Falcon Village".
"The awareness programmes were going on well. We had initiated the Amur falcon festival since 2015. This year the experience was different. The birds didn't roost only in one or two roost sites. This year there are many big roosting sites dotting the district along Barak and Irang river," Arun explained.
"They are not scattered but are continuous. We selected Chiuluan given its accessibility and size of the roost. Like Bhalok, Chiuluan was also secured and it protected the falcons following our campaigns," Arun told Mongabay-India.
Officials estimate as many as 30,000 to 40,000 birds in the Chiuluan roosting site.
"Ninety per cent people are supportive of conservation efforts but there are 10 per cent people who do not care or it takes time for them to bring them into the fold. Whatever good things this 90 percent of people put in, in a matter of hours or minutes this 10 percent people can bring it down. We must stop usage of guns," said Suresh Kumar.
At present, "Tamenglong" has strangely moved to the same roosting site along Irang river where "Manipur" was killed. The Forest Department has stationed officers and alerted the community.
The Amur falcon is protected under the Indian Wildlife (Protection) Act, 1972. India is also a signatory to the Convention of Migratory Species (CMS) under which it is "duty bound" to provide safe passage and ensure conservation of migratory species.
Satellite-tagging of the long-distance migratory birds were first initiated in Nagaland in 2013 to support conservation awareness efforts in the state and also to gather information on the poorly understood species.
In 2012, Nagaland made global news alarming environmentalists and the public alike. Tens of thousands of Amur falcons, that came to roost in Pangti village enroute South Africa, Somalia and Kenya, were mercilessly targeted by local hunters. Over thousands of these raptors were harvested every day for sale and consumption.
The satellite tagging has created so much of awareness that neighbouring states like Manipur, Mizoram, Meghalaya and Assam started protecting the birds.
The Amur falcon conservation success also lead to India signing, in March 2016, the CMS Raptors MoU, a Memorandum of Understanding on conservation of Migratory Birds of Prey in Africa and Eurasia.