Advertisement

Six persons have been arrested in France on suspicion of planning to carry out a "violent" attack on President Emmanuel Macron…reports Asian Lite News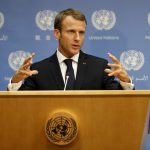 The individuals, reported to be five men and a woman, were picked up by the French security services in Brittany, north-east and south-east France, BBC reported on Tuesday.
An investigation is now taking place into a "criminal terrorist association", a judicial source said.
Details of the suspects and the alleged plot have not yet been released.
"This investigation is looking into a plot, vague and ill-defined at this stage, involving violent action against the president of the republic," prosecutors said.
The suspects had reportedly been under surveillance by France's domestic security agency, the Direction Générale de la Sécurité Intérieure (DGSI).
The arrests were carried out in the eastern French regions of Moselle and Isere and the northern region of Ile-et-Vilaine, officials said.
It comes on the day that Mr Macron is touring the battlefields of northern France as he marks the centenary of the World War One Armistice.
Last year, a 23-year-old man was charged with plotting to kill Macron at the Bastille Day parade on 14 July after police were alerted by users of a videogame chat room.