Advertisement

Dr. Al Jaber and the Pakistani officials' discussions focused on ways to enhance cooperation between the two countries … reports Asian Lite News.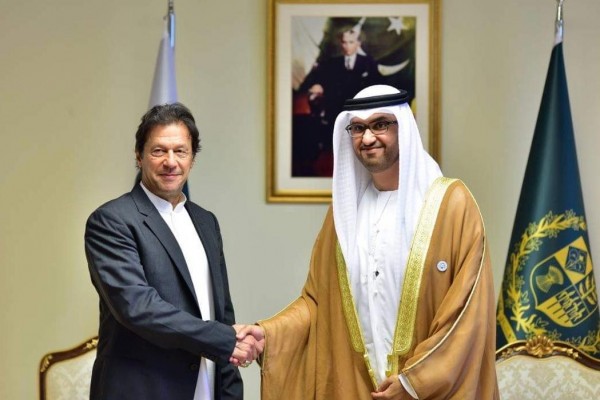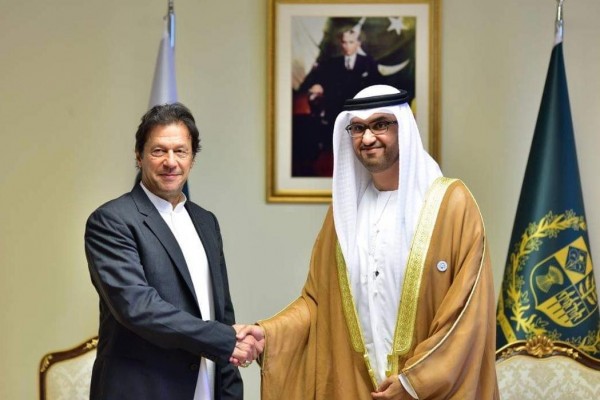 Dr. Sultan bin Ahmad Sultan Al Jaber, Minister of State, has said that the UAE wise leadership attaches great importance and particular attention to enhancing historic ties with Pakistan, which are based on strong pillars of respect, mutual confidence and conformity on all regional and international issues.
He said this while leading a UAE high profile 15-member economic delegation from government and private sectors entities including a number of CEOs of key companies and investment bodies. The visit came in implementation to the directives of the wise leadership.
Dr. Al Jaber held meetings with top Pakistani officials including Foreign Minister Shah Mehmood Qureshi, Minister of Finance Asad Umar, Minister of Energy Omar Ayub Khan, and a number of other ministers.
During his meeting with Pakistan's Prime Minister Imran Khan, Dr. Al Jaber conveyed the greetings of President His Highness Sheikh Khalifa bin Zayed Al Nahyan, His Highness Sheikh Mohammed bin Rashid Al Maktoum, the Vice President, Prime Minister and Ruler of Dubai, and His Highness Sheikh Mohamed bin Zayed Al Nahyan, Crown Prince of Abu Dhabi and Deputy Supreme Commander of the UAE Armed Forces, to the leadership, government and people of Pakistan and their best wishes of more progress, welfare and prosperity.
Prime Minister Khan reciprocated his regards to the wise leadership, government and people of the UAE, while wishing further development and prosperity.
Dr. Al Jaber and the Pakistani officials' discussions focused on ways to enhance cooperation between the two countries, especially in economic development, infrastructure, energy, agriculture fields and ways to increase bilateral trade.
The two sides agreed on a roadmap and a practical framework for developing bilateral economic cooperation leveraging the multiple opportunities and advantages available to invest in various vital sectors, especially in energy, oil, agriculture, communications, infrastructure, housing, and urban development.
They also agreed to move forward towards practical measures to ensure greater cooperation in the economic and investment fields and to remove all obstacles that undermine investors in the light of the positive investment environment and work mainly to build on the successes achieved in the past and move forward towards a strategic relationship between the two friendly countries.
Dr. Al Jaber stressed that the UAE leadership attaches special importance to its relations with Pakistan due to its historical dimensions including economic, trade, development and social cooperation.
He pointed out that the visit coincides with the accelerating ties between the two countries at all levels. He also stressed the need to seize the available opportunity and maintain a positive environment for advancing cooperation in various fields, especially in view of great mutual trust and understanding of the leadership of the two countries, reflecting the strong relations established by the Founding Father, late Sheikh Zayed bin Sultan Al Nahyan.
"The UAE considers Pakistan as an important partner and we work closely to continuously develop these ties," he said, adding, "The UAE is committed to keeping focusing on cooperation with Pakistan in various economic, investment, business development and joint ventures domains."
He reaffirmed the UAE's commitment to contribute to the development of Pakistan through various initiatives and projects.
Dr. Sultan Al Jaber noted the leadership's firm belief that education and health are the cornerstones of human development. "Empowerment of economic and social development puts us today with a great responsibility to ensure a prosperous future," he said while stressing that the UAE and Pakistan share this strategic vision.
Dr. Al Jaber pointed to the presence of 1.6 million Pakistanis in the UAE, who are contributing effectively to the national economy and to the growth and prosperity of the country, reflecting cohesion and bonds between the two friendly countries based on solid foundations of mutual respect and cooperation.
He also stressed the importance of stability in Pakistan, which is in the interest of the stability of the region. He extended thanks and appreciation to the leadership, government and people of Pakistan for their warm reception and wished them more stability, development and prosperity.
The UAE Pakistan Assistance Programme, UAE-PAP, focuses on the development of health, education, infrastructure and water projects. The third phase of the programmes which covers more than 85 vital and developmental projects in Baluchistan and Khyber Pakhtunkhwa provinces worth US$ 200 million was signed.