Advertisement

All eyes are on Italy during what will be a "challenging" week, populist premier Giuseppe Conte stated amid an ongoing stand-off with the European Union over Rome's plan to flout eurozone fiscal rules in its free-spending 2019 budget…reports Asian Lite News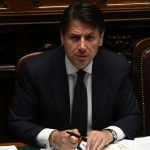 The country is also reeling from deadly storms and flooding in Sicily and other regions last week.
"It will be a very challenging week," Conte wrote on Facebook.
"Europe and the world will be watching us closely but as ever, we will rise to the challenge… we do so for the good of the Italian people," his post continued.
Twelve people died in flooding in Sicily at the weekend, taking the death-toll from the extreme weather that has ravaged Italy over the past week to 30, according to officials.
"My thoughts are constantly back home as I set off on a visit to Algeria, where my talks with its prime minister will include Sicily, which I visited yesterday after the devastating storms which causes so many – too many – victims," Conte wrote.
"Our meeting will also cover Palermo, where I will return next Monday for the crucial conference on Libya," he added.
Conte was referring to an international summit on stabilising Italy's conflict wracked former colony being held on November 12-13 in Palermo, which is due to be attended by key Libyan and international players.