Advertisement

Life has turned a full circle for art critic and writer Uma Nair, whose parents were immigrants from Kerala but found livelihood in the bustling city of New Delhi. Several decades on, as Gods Own Country navigates its return to normalcy, Nair has donated artworks from her personal collection to National Gallery of Modern Art (NGMA), which will be used to raise funds for the flood-ravaged state…reports Asian Lite News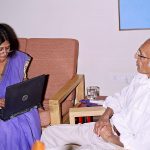 Nair said that her story is not her story alone. It began with her parents, who belonged to Changanacherry and Champakulam in Kerala, coming to New Delhi in 1960. Her mother was Principal of Institute of Home Sciences in South Extension here while father was an engineer with Indian Airlines.
"I was thinking that at the end of the day, the city of Delhi gave my parents so much… It was here that they became individuals. It gave me everything, it made me an individual. There is no North-South divide here, one is recognised according to one's merit. I have given my works to NGMA because of the reverence I have for my own land of Kerala," Nair, who began her career as an art critic in 1990, told IANS.
Nair is a leading critic of our times, and continues to write extensively on art-related subjects, apart from curating exhibitions herself.
Her personal collection grew over a period of time. She recalled that most artists would gift one of their works if they found a critic's writing impressive.
"(M.F.) Husain would meet me before his shows at Vadehras and would often gift me drawings. This drawing (one among those being donated) belongs to his Madhuri phase, and was made in 1996. Kalabhakesari is a gifted Kerala artist who has little money but is brilliant. His drawing of Eiffel in Paris is meticulous. Nitasha Jaini gifted me two drawings more than 15 years ago. Surendra Pal Joshi was an important abstract artist from Jaipur. My donation is my gift to Kerala the land of my birth," she said.
Nair also hailed the NGMA for doing its bit for Kerala, when it needs the most. She said that NGMA is among the premier art institutes in the country. "My donation to NGMA also comes in the wake of the need for knowing that India's art institutions must be supported and served," she maintained.
The exhibition and sale of artworks will take place from September 21 to 23 at NGMA here under the title "Art for Kerala Flood Disaster".
"Art for Kerala Flood Disaster 2018 is an initiative by the artists from India who have come forward to donate their work of art for the cause and the entire sale proceeds shall be contributed towards Kerala Chief Minister Relief Fund," NGMA had earlier informed in a statement.
The exhibition will include works by artists such as Anjolie Ela Menon, Arpana Caur, Jatin Das, Manu Parekh, Jogen Chowdhury, Madhvi Parekh, Raghu Rai, Shuvaprasanna, Gopi Gajwani, Rameshwar Broota, Paresh Maity and Subodh Gupta, among others.