Advertisement

Installing air purifiers in your homes and offices may, to some extent, help combat the impact of deadly air on your respiratory and circulatory systems; but the question remains: How effective they can be over time in mitigating the ill-effects of Delhi's toxic air…reports Asian Lite News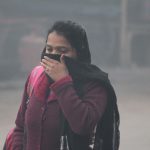 While most air purifiers are able to remove airborne pollutants like mold spores, pollen, dust, bacteria and pet dander, are they really effective as the Air Quality Index (AQI) nosedives to life-threatening levels?
"The air purifiers are effective but only up to a certain extent. A person would eventually have to go outside where they would be exposed to polluted air," said Rajesh Chawla, Senior Consultant, Critical Care, at Indraprastha Apollo Hospital in New Delhi, told IANS.
"Air purifiers help reduce air contamination inside the house and reduce indoor air pollution to some extent. They are shown to have positive effects on respiratory health as well circulatory health. As there is a saying, something is better than nothing," added Gyanendra Agarwal, Senior Consultant, Department of Pulmonology, Jaypee Hospital, Noida.
The effectiveness of an air purifier is judged by its capability to filter PM up to level 2.5.
The fluctuating air quality in cities like Delhi depends upon various factors and the air pollution is high because of the particulate matter (PM) found in air, such as dust, dirt, soot, smoke, etc., which are denoted as PM10 and PM2.5 levels.
According to Jai Dhar Gupta from New Delhi-based company Nirvana Being that sells air purifiers and masks, most of the brands available in the market today or being sold online are designed for foreign cities.
The air purifiers are designed for "cities like London and Singapore, etc., where, on a really bad day, the PM2.5 reaches a mere 150 whereas in cities like Delhi, the PM2.5 reaches 1,500 plus," Gupta told IANS.
He said that air pollution problems here are a "lot more severe and alarming in comparison to other countries and our solutions need to also be equally effective and aggressive".
Although most of the available air purifiers absorb volatile organic compounds (VOCs) — a type of indoor air pollutant — including benzene, toluene and xylene, cooking gas, paint and building material vapours, as well as tobacco smoke, they create huge environmental damage, Gupta stressed.
"Every air purifier bought requires a filter change after every 8-12 months and the sad part is that these filters land up in a landfill, thus all those pollutants trapped within the filter go back into the air," Gupta noted.
However, according to Saurav Katyal, Director, Samsung India Consumer Electronics Business, the company's air purifiers come with PM2.5 filter which captures up to 99 per cent of ultra fine and hyper fine particles, which are of 0.02µm in size.
"In the four-step filtration system, the deodorisation filter removes harmful gases such as ammonia, acetaldehyde, acetic acid, filter formaldehyde, TVOC (Total Volatile Organic Compounds), benzene, ethyl benzene, xylan and Styrene," Katyal noted.
Dr Agarwal from Jaypee Hospital said the OPD is witnessing a three-fold increase in asthma-related cases.
He suggested that increasing the intake of vitamin C and E could help boost immunity.
Other measures such as more plantations inside and outside the house, more biodegradation and organic manure, regular pollution check of vehicles, as well as stricter construction laws, may also help.
To protect children from the worst effects of pollution, it is important that parents adhere to some basic precautions.
"Children should not go outside to exercise or play. Right now, it is better to indulge in indoor games such as badminton and table tennis, etc. Take a bath to ensure that all the dirt and pollutant particles sticking to your body get removed," Chawla stressed.