Advertisement

Bangladesh's Chief Election Commissioner KM Nurul Huda said that the country's 11th parliamentary election will be held on December 23…reports Asian Lite News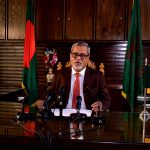 Huda made the announcement in a televised speech to the nation.
According to the schedule, poll aspirants will have to submit their nomination papers by November 19. The last date for withdrawing candidature will be November 29.
Nearly 104.2 million people, including a little more than 51.6 million women, are registered as voters. They will elect their 300 representatives to Parliament through balloting in about 40,000 polling stations.
The announcement came amid the new opposition alliance Jatiya Oikya Front's repeated calls for the Election Commission to defer the election schedule. The ruling Awami League, on the other hand, urged the poll body to stick to its plan.
Huda urged all political parties to take part in the election to continue Bangladesh's "development efforts and put democracy on a stronger footing".
"I believe the enthusiastic presence of supporters prevents irregularities in an election fiercely contested by all the political parties," he said.