Advertisement

Bangladesh Prime Minister Sheikh Hasina held a dialogue with leaders of a newly-formed opposition alliance over the general elections slated for December…reports Asian Lite News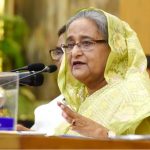 The much-hyped dialogue ended at about 11 p.m. on Thursday which had started four hours earlier at Hasina's official residence here, reports Xinhua news agency.
Her ruling Bangladesh Awami League (AL) party on Tuesday invited the alliance called "Jatiya Oikya Front" (United National Front) for the talks.
The alliance was formed in October by former Prime Minister Khaleda Zia's Bangladesh Nationalist Party (BNP).
However, BNP spokesman Mirza Fakhrul Islam Alamgir, while leaving Hasina's residence, told the media that the dialogue was not fruitful.
The alliance's leader Kamal Hossain, a former foreign minister and a prominent lawyer who drafted Bangladesh constitution after the country's independence, said the meeting went "good", adding that "It will bear fruit".
The alliance has demanded that the upcoming 11th national election be held under a non-partisan government and the immediate release of all political prisoners including Khaleda, who has been in jail since February in a corruption case.