Advertisement

Although technology offers easy access to information and connectivity, digital divide could pose a threat to global peace, Lok Sabha Speaker Sumitra Mahajan…reports Asian Lite News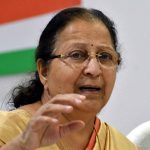 "Technology and innovation offer us easy access to information, improved lifestyle, connectivity, communication, social networking and entertainment but at the same time it may also lead to job losses, increased loneliness, addiction and psychological disorders. Further, digital divide can pose a threat to global peace," Mahajan said in her address to the General Assembly of Inter-Parliamentary Union (IPU) in Geneva.
She is leading an Indian parliamentary delegation comprising Nagendra Singh, Anil Desai, Harish Chandra Meena, Hari Babu Kambhampati, Pratyusha Rajeshwari Singh and Heena Gavit to attend the 139th IPU assembly in Switzerland.
Speaking on the theme "Parliamentary leadership in promoting peace and development in the age of innovation and technological change", Mahajan said that the entire humanity is in the middle of an innovation-led technological and digital revolution which is shaping every aspect of life on earth.
She pointed out that global partnership to financing technology, women friendly tools, pro-poor research, impact of artificial intelligence and loss of jobs are some of the important challenges which the international community must discuss and address.
"Sustainable development and peaceful welfare of the poor should always be at the center of development. Innovations using indigenous methods are economical and sustainable," she said.
Referring to the Speaker's Research Initiative set up in the Indian Parliament, the Lok Sabha Speaker said that it is using technology to become e-Parliament and reduce carbon foot prints.
Digital India, Skill India, and StartUp India are some of the ambitious programmes to channel the energy of our youths, she said.
Rajya Sabha Deputy Chairman Harivansh Narayan Singh participated in the debate on the role of fair and free trade and investment in achieving sustainable development goals.