Advertisement

As India's apex court decriminalised homosexuality in a landmark judgment, ace fashion designer Suneet Varma said it is a day that has restored his faith in the Indian judicial system, while Wendell Rodricks had a sigh of relief that "I am no longer a criminal", and jewellery designer Akaash K Aggrawal felt it's a sunshine moment after "long dark nights"…reports Asian Lite News
The Supreme Court decriminalised homosexuality between consenting adults by declaring Section 377, the penal provision which criminalised gay sex, as "manifestly arbitrary".
The verdict sparked celebrations in the LGBTIQ (lesbian, gay, bisexual, transgender/transsexual, intersex and queer/questioning) community across India. Many of the community members who had assembled outside the apex court jumped in joy and distributed sweets.
And the country's fashion industry was not behind in the celebrations.
Suneet, who married his boyfriend Rahul Arora in 2013 in New York, is overjoyed and says he can't be happier.
"To a large extent, today's verdict has kind of restored my faith in the Indian judicial system. I think the real democracy for the country will only ever be judged by the security and safety of all citizens. Considering we are proud of our country for being the largest democracy in the world, we really need to kind of live like that as well.
"Everybody — whether it is daily workers or someone living in a palace, everybody's right should be rightly their own and which makes them feel secure and proud citizens of the country," Suneet told IANS on phone.
He says that finally calling homosexuality not an offence anymore proves that we are a nation whose faith has grown on love.
"We just celebrated Janmashtami – a festival that was all about love and freedom of choices. We are a country that celebrates all of that. The judgment allowed so many people to actually not be scared to live under darkness. It also allowed their parent to let their children make their choices of freedom without any worry about what the society will say.
"I think it's a very large step forward for India as a nation," said the master couturier.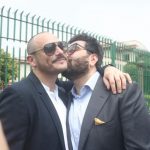 Celebrated Goa-based designer Wendell Rodricks posted on his Facebook page: "At last, future generations of Indians are freed from the tyranny of Section 377. And at 58, I am no longer a criminal. God bless the wisdom of the Supreme Court of India. We are living through a historic time and judgment."
Aggarwal, a proud supporter of LGBT rights, says the day is about celebrating human existence and diversity.
"I completely bow down to the sacred hearing and the beautiful judgment by the Supreme Court of India which has led us now to breathe in relief, and let us hold our heads high in glory of this beautiful sunshine that we are facing our long dark nights," the designer told IANS.
"Today is a day of hope… and the faith is regained in the unity in diversity of India…. on our sexuality, gender, sexual orientation, caste, creed and what not. This is the day for the 2 million people whom the government considered as a 'minuscule minority'. We stand in solidarity and support for our brothers and sisters, friends, family, whom this nation considered as criminals. I'm queer and I'm proud," he added.
Fashion designer Rohit Verma, who was also seen in the third season of "Big Boss", says the judgment is a victory of God's creation.
"The nature is more powerful than any human and the justice now has bowed in front of it. The victory is not of any human or form. This victory is of God's creation, the Almighty who looks at all with equal eye.
"My happiness and gratitude towards the law of nature which has established itself and the gays are also considered as any other normal human beings," said the designer.