Advertisement

Giving a new lease of life to wilted flowers through his pressed flower art, 80-year-old Hari Tandon imbues them with a charm and beauty. Forty exhibits that are on display from Friday here, show how his hands, although shaking because of old age, are firm when it comes to rendering an artful after-life to the pressed flowers…writes Siddhi Jain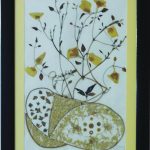 The three-day solo show "Sudhari" at India Habitat Centre (IHC) here displays selected artworks created by Tandon over the past 20 years as his passion for gardening blossomed into an intimate affair with art.
"I have always loved plants. I used to do a lot of gardening. The entire process from planting, weeding, waiting for the plant to grow and the first buds appear, taking pleasure in the flowers, taking out the seeds, drying them and storing them for the next year fills me with excitement.
"My familiarity with all parts of flowers and plants — petals, leaves, tendrils, seeds, stamens — was instrumental to my taking up this art," Tandon, whose tryst with art began at 50, told IANS.
Despite the trials of a full-time job, Tandon's appreciation of nature's beauty and a desire to see nature in new light led him to a chance encounter with the art form.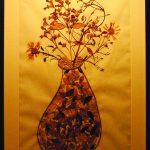 "I started creating pressed flower art by chance. One day I came across a patch of wild grass that had flowered and finding it interesting, I pressed it in a newspaper," he said.
About a month later, when Tandon looked at it again they had turned dry and were no longer green. But it was beautiful, he recalled. And so he stuck it on paper and, thanks to its distinct artistic appeal, put it up in the house. This is how the art began and then there was no looking back ever since.
How does he preserve and arrange the flowers?
"I sometimes use fallen flowers and leaves or on occasion pick them, or use seeds. Sometimes I take them from flowers received as gifts, or a used in garlands. I use whatever catches my eye, preserve them in a book or between newspaper sheets and put something heavy on top of it so as to get rid of all the moisture.
"I keep checking them and when the colours, textures, shapes seem right I arrange them on a sheet. Once I have decided the general composition I start moving smaller parts into place. I see which flowers can go with which leaves, tendrils etc, shift them into place and stick them with craft glue," he explained.
Asked if pressed flower art has a shelf-life, Tandon responded in the affirmative and estimated the duration to be about 20 years.
"Though an essential part of the experience is also seeing the colours, shapes and textures change with time," he said, adding that the pressed plants are extremely delicate and need to be handled with great care.
Tandon, who hopes to see growth in the market and art education around pressed flower art, is happy to simply exhibit his works to more people, outside his circles of family, friends and acquaintances, to whom he regularly gifts his works.
"The idea is to show the beauty of nature, give an after-life to plants, and look at nature from a new point of view."