Advertisement

Space constraints and lack of basic facilities have left traders and exhibitors at the annual India International Trade Fair (IITF) disappointed as the venue undergoes a makeover but some customers are happy they don't have to walk around much…reports Asian Lite News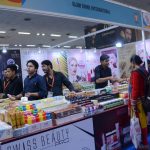 Be it food stalls or state/international pavilions, everything at the fair has shrunk this time due to the implementation of the IECC (Integrated Exhibition-cum-Convention Center) project at Pragati Maidan.
The traders are also struggling to avail proper water and food facilities.
Chhattisgarh-based Kanhaiya Lal Dewangan, who is selling handloom saris, is having to adjust his stall every now and then to make room for the visitors.
"Earlier I used to get a large stall but this time due to the ongoing construction work, I had to settle with a smaller one. I'm not even able to unfold the saris and display them to customers properly. It gets difficult to handle even one customer at a time now," Dewangan told IANS.
Like Dewangan, there were several other exhibitors who expressed the same concern and felt that IITF 2018 was one of the most disorganised fairs.
Known for setting up Lucknow's famous Chikankari kurta stall, U.K. Mishra slammed the organisers for not fulfilling the exhibitors and traders' basic demands.
"We can manage in this little space but how can we live without water? There are hardly one or two water filters in the whole hall. Just imagine, 800 stalls and only one or two water filters," he said.
"And to get entry, every day we have to buy a ticket. We did not even get an entry card. We have just one entry card and we are two people who manage this stall. My brother has to buy a ticket of Rs 500 every day. Organisers should look after this and provide concessions to the exhibitors," he added.
Addressing the furious exhibitors' complaints, Hema Maity, General Manager at the India Trade Promotion Organisation (ITPO), told IANS: "I agree there is a lack of water facilities. Many water pipelines are blocked due to construction work but we have arranged water ATMs and water tanks everywhere with a charge of just Rs 2 per glass and Rs 5 for bottles.
"There are many inconveniences faced by the people this time, but the construction and redevelopment taking place are for their betterment only."
IITF, which marked the initial four days (November 14-17) for business visitors, is scheduled to continue till November 27. The 14-day fair is organised by ITPO under the Ministry of Commerce and Industry.
Around 800 national and international participants are taking part in the exhibition. The average footfall is expected to be around 30,000 approximately, alarmingly lower than previous editions.
Covering just 23,000 sqm of land, the IITF 2018 is causing trouble to the traders and visitors alike.
From unorthodox parking provisions to limited seating arrangement and shuttles, there are many inconveniences for the visitors.
Veena Pandey, who has been attending the trade fair for the past 20 years, was discontent with the quality of food this time.
"There are no proper food stalls, no seating arrangement, nothing. And even if you find a stall, the food items are overpriced. Take a look outside, and so many people are sitting on the grass just because of the shortage of chairs" she said.
A few customers, however, were happy.
"I know there is less space, but to be honest, we are happy as now we do not have to walk a lot. It saves a lot of time. Old people can now easily go and look up to the stalls," said Amita, a customer who attended the fair with her family.
Despite constraints, all Indian states and union territories have made space and installed their stalls, but those from neighboring countries like Pakistan and Sri Lanka were missing in the fair.
Afghanistan is the partner country whereas Nepal is the focus country and Jharkhand, the focus state of IITF 2018.