Advertisement

India welcomed the decision to start the process of repatriation of Rogingya refugees from Bangladesh to Myanmar and asked Myanmar to maintain favourable living conditions for those returning…reports Asian Lite News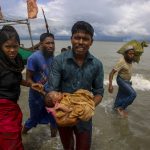 "We welcome the agreement which was reached between the Foreign Secretaries of Bangladesh and Myanmar," External Affairs Ministry spokesperson Raveesh Kumar said.
"Once the movement of people starts, I think it is a good beginning," Kumar said.
"We hope that this process can gather momentum as confidence grows in the environment in Rakhine state for the safe, steady and sustainable return of the displaced people."
A new crisis erupted in August last year following an attack by a Rohingya insurgent group that led to a violent response by the Myanmar Army in Rakhine state.
This resulted in an exodus of Rohingya refugees from Rakhine State in Myanmar to Bangladesh.
New Delhi has sent relief material for the refugees in both Rakhine state and Bangladesh.
The Rohingya people do not enjoy citizenship status in Myanmar and are sparingly given refugee status in Bangladesh.
Bangladesh Foreign Secretary Md Shahidul Haque made the announcement on Tuesday about starting the repatriation process from the middle of this month after the third Joint Working Group (JWG) meeting with his Myanmar counterpart Myint Thu.
Currently, over a million Rohingyas are living in Bangladesh.
According to the report, Bangladesh and Myanmar for the first time came up with a specific time to start the repatriation of Rohingyas from Cox's Bazar.
It remains a concern of the international community whether the repatriation of the Rohingya people to Myanmar will be voluntary and dignified.
Kumar said that India was in favour of a safe, speedy and sustainable return of the displaced people from Bangladesh to Myanmar.
"I think it is important also to note that India has been working in Bangladesh to provide humanitarian aid to meet the needs of the displaced people as well as in Myanmar to create conditions so that people who are being repatriated back to Myanmar get the proper socio-economic conditions for a favourable return to the place where they belong to," he said.