Advertisement

Maya Kamaty, a prominent Maloya musician and singer of Indian origin from Reunion Island, the French overseas territory, thinks good music can transcend all geographical barriers and says she is deeply inspired by Indian classical music and fascinated by the traditional instruments used here…reports Asian Lite News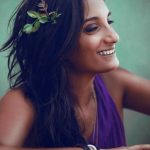 In a freewheeling interview with IANS, Kamaty, four-time winner of the Music of the Indian Ocean prize, talked about her love for the native Creole language, the changing scene in world music and how she feels engrossed by the flavour of traditional Indian music.
"I listen to a lot traditional music from India. I love the way it sounds, I love the instruments and the vocals. In fact, I used to wake up to the compositions of Ravi Shankar every day. My music has a deep influence of Indian classical. I am, in fact, a fifth generation Indian. So, of course, Indian culture is very much a part of me," said Kamaty, who performed in Kolkata with fellow Maloya musicians as part of a tour under the auspices of Alliance Francaise.
Maloya is one of the two major music genres of Reunion, usually sung in Creole — accompanied by percussion and a musical bow.
"They (Indian artists) influence me a lot but I feel like I want to do more. I want to explore more classical music from India. But it seems to be complex as I do not understand all the Hindi or Tamil songs." She said.
"I really love the sound of traditional Indian instruments. I like the sitar, tabla, tambura, veena and dholak. All the percussion, all the chords; this is wonderful because the instruments can tell a lot about the musical culture and people there. During my performance, I play the kayamba, which is a traditional instrument in my island made of sugarcane tubes," said Kamaty, who was on her fourth visit to India.
Kamaty, the daughter of famous Maloya band Ziskakana's lead singer Gilbert Pounia, is considered as one of the finest voices of Reunionese music at present. Her tunes artfully combine traditional Maloya, which is a mixture of poetry, slam, rock, reggae, jazz and dance, along with island blues melodies, French chanson, and Afro-beats.
The singer, who chose to sing in the native Creole language rather than in English or French, which has much larger reach, said she is enthusiastic about the brand of music as it is being appreciated around the world in spite of being a new genre.
"Though I speak in English or French, they are not my mother tongue. For me, Creole is much easier to express myself. So I thought of singing in my native tongue because if music takes you elsewhere that's also a part of my job as a musician."
"The response is really good because music lovers are interested in listening to something different. At the moment people around the world are really accepting it well. So I am looking forward to the international tours we are doing as Maloya singers. But the music is still new, so we have to wait to see how it is being accepted in the long run," she noted.
Kamaty, whose first album "Santie Papang" released back in 2014, said her second, titled "Pandiye", meaning suspended in time, will be out in February next year.
The singer said her music is a conscious shift from the traditional political orientation of Maloya, which saw it banned until the 1960s due to its strong association with Creole culture and the Communist Party of Reunion.
"The traditional Maloya music was very political but now we work more on the poetic aspect of it. I try to concentrate on my lyrics. I feel my lyrics generally reflect my values in life. It also reflects that I am a woman of 2018."
"But I do not care if music has a political undertone. It is an open medium for everyone, so if people want to use it for political reasons they can do it. Maybe I will also do it myself sometimes," she continued.
Kamaty, whose music has been influenced by that of her father's, said it is more important to her as a musician to be the same person on stage and in real life.
"I do not want to be someone else on stage. But I see a lot of artists who say certain things to the press and on stage, but are totally different back stage. I do not want to be like that," she added.