Advertisement

The trams in the City of Joy may not have kept up with the fast pace of the metropolis, but they refuse to quietly roll off into the sunset. A newly refurbished tramcar, designed as a fine-dining 28-seater restaurant, will trundle out from October 13, offering a culinary ride to customers…reports Asian Lite News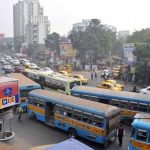 Named "Victoria on Wheels", the service, an innovative way to keep the tram service alive, will run from Shahid Minar to Kidderpore, offering non-vegetarian and vegetarian meals and some sightseeing on the way.
Aimed at generating revenue for the loss-making Calcutta Tramways Company (CTC), the restaurant on wheels — decked up with artwork depicting various famous tourist spots in the city — is also equipped with air-conditioning, a music system and bio-toilets to attract tourists who seek the unique experience of dining in a moving tramcar.
The Victoria, a catering chain, which has bagged the contract for 10 years through a tender, will pay Rs 1.6 lakh per month to CTC.
"We are adopting various innovative approaches to generate revenue for the tram company as our fare collection has gone down over the years," a senior CTC official told IANS.
Patronage of the tram service, considered one of the oldest modes of public transport, has fallen drastically because of the onslaught of taxis, private buses and India's first Metro service – and its routes have also been reduced to less than 30 from more than 50 earlier.
Once upon a time the tram service was the main mode of transport in the city, but not any more – even though the tram fare is still at the lowest at Rs 6 and Rs 7.
"From a mode of transport it has become a 'mode of experiment'," said J.P. Mishra, a CTC employee. Somnath Das, another employee, said though various factors have led to the tram service being curtailed, attempts are being made to continue its operation.
"Besides allowing two tramcars to become a restuarant," Mishra said, "We also offer exclusive tram rides on popular routes during Durga Puja at special rates."
Victorial on Wheels will make two rides each covering the lunch and dinner hours, and during Durga Puja there will be three rides in the evening.
The package offer is Rs 999 for a non-vegetarian meal and Rs 799 for vegetarian food, including a welcome drink, starters, main course and dessert during a 90-minute ride from Shahid Minar to Kidderpore and back.