Advertisement

The revelry surrounding West Bengal's Durga Puja festival is not new, but a humble community puja named "Footpather Durga Pujo" in north Kolkata — organised by children living on the pavements — is grabbing attention despite the absence of pomp and glitter associated with the city's high-budgeted community puja pandals…reports Asian Lite News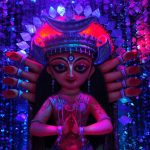 The fact that these children have only visited crowded Durga Puja marquees of the city but never been able to offer puja to the goddess makes it very special for them. It also reveals the harsh reality and social discrimination faced by those living on the margins.
"We have jointly kept the theme as 'Ichhepuron' (wish-fulfillment) as we had been wishing to give 'anjali' (ritual prayers with flower offerings) to Durga Ma. No one allowed us for we had no new clothes to wear but this is our own Puja and it is very special," Class 9 student Sujit Das told IANS.
Now seemingly on cloud nine, Sujit said almost 20 such kids are working hard for the Puja that will be organised inside a primary school near "Mayer Bari" in Bagbazar where Sarada Devi, the spiritual consort of seer Ramakrishna Paramhamsa, spent her last days.
The decorations include earthen tea cups collected from the road, little flowers made using coir rope, ribbons and beautiful paintings made by them.
"We were not allowed in other puja pandals but our puja is open to all. We will invite those people also who had denied us entry previously," Riya, a little girl studying in Class 6, exclaimed, her maturity belying her years.
The children have made a one-foot-high Durga idol.
When asked about their wishes, one of the little idol-makers, Debjit Das, said: "I used to collect mud from the banks of river Ganga and tried making idols. This year I could do it. I will ask Ma Durga's blessing so that I can become a better idol-maker when I grow up."
Riya will "ask God's blessing to fare well in the examinations".
They are excited as they will wear new clothes, eat delicious food and celebrate without anybody's intervention. Even their parents are happy to see their "own Puja".
"We had tried making idols for two years but it was not working out. This year we are doing it as Mahendra uncle and Mala-di helped us," Sujit said.
City-based businessman Mahendra Agarwal and his wife, who run an NGO, made their dream a reality. The couple had previously taken old-age home residents to visit the city's Puja marquees.
Said Agarwal: "We wanted to take them to various pandals (marquees) but after talking to the kids we came to know their desire to organise their own Puja. Why not? So I thought of helping out these kids."
Agarwal said they roped in award-winning idol-maker Mala Pal to supervise the kids, who are doing everything on their own.
"I feel blessed to be associated with this noble cause," said Pal.
Children are making cards which will be a part of the decoration. Some cards will be sent to the local councillor and other guests.
"We will make cards. I heard it will be sent to Shashi Panja (Minister of State for Women and Child Development and Social Welfare)," said Sujit.