Advertisement

Even as Rima Das hopes the Indian government will help her surmount monetary hurdles to begin the Oscar campaign for her Assamese film "Village Rockstars", filmmakers like Vetrimaraan and Manish Mundra are still waiting for government funds promised to them…reports Asian Lite News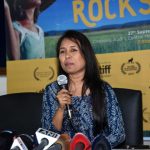 "They (the central government) haven't reimbursed us the promised funds for promotional expenses of 'Newton' in our run-up to the Oscars. It's (been) more than eight months," Mundra, who produced the Rajkummar Rao-starrer under his Drishyam Films banner, tweeted.
His tweet came after Assamese actor Adil Hussain urged the government to release Rs 5 crore to promote Indie film "Village Rockstars", the country's official entry to the 91st Academy Awards in the best foreign language film category.
Acclaimed Tamil filmmaker Vetrimaaran says that after the government set up a promotional fund, "Visaranai" was sent by the Film Federation of India (FFI) committee to the Oscars.
"The promotion game there is a totally different and not an easy one for us. Initially, it was said that they (the government) will give a certain amount to films participating in different festivals. When we approached them, we were informed the money will be transferred to us once we submit the expenditure bills and our bank details, after verification," he said.
"It has been three years, and officials' verification is still going on. It's very appreciable that their verification is so thorough," Vetrimaaran told IANS on Whatsapp, possibly with a tinge of sarcasm.
In over 60 years that India has sent foreign language films to Academy Awards, only three have made it to the nomination line-up — "Mother India", "Salaam Bombay!" and "Lagaan". None has won.
Government support with funds and a year-long outreach for Indian cinema in the US could help in breaking the jinx, say experts.
In 2016, the then Minister of Information and Broadcasting M. Venkaiah Naidu had announced a Film Promotion Fund to provide financial assistance for promotional activities to movies which would be selected in competition section of a reputed international film festival or were being sent as India's official entry to the Academy Awards under the foreign film category.
Right after FFI's selection committee chairman S.V. Rajendra Singh Babu unveiled "Village Rockstars" as this year's pick, he cited "acute lack of funds" for promotions as a reason why Indian entries haven't made the cut.
According to Guneet Monga, a member of the Academy of Motion Picture Arts and Sciences and associate producer of Norway's Oscar entry "What Will People Say", a film needs anything between Rs 3 crore and Rs 5 crore for pre-Oscars promotions.
Das, who wrote, directed and edited "Village Rockstars", is currently looking for ways to raise funds, but is grateful for Assam government's help.
"I have not heard anything from the (central) government yet, but we asked the Assam government for support and they have promised Rs 1 crore. I've heard that 33 per cent of it will go in entertainment tax. So, around Rs 67 lakh is the fund we will get as of now," Das told IANS, adding that she may look at private organisations in Assam or seek help via crowdfunding platforms.
Mundra has committed Rs 10 lakh to her, while political party Asom Gana Parishad has extended Rs 5 lakh for the film.
She knows about the Film Promotion Fund, but is yet to apply as there appears to be a "catch" in getting the money.
FFI Secretary General Supran Sen told IANS: "The government has earmarked some amount, but the unfortunate point is that the grant is given only if the film makes the cut in top nine in the category."
Sen said FFI plans to write to the government to make some changes to the procedure as "the funds must be given at the first stage, not the last".
Besides, one of the terms of funding, as stated on the I&B Ministry's website, is that the decision of providing financial assistance would be based on recommendation of a government-constituted expert panel.
The panel would examine information provided by the filmmakers and also view the film before making recommendations to determine the financial assistance a film gets under the scheme.
Vetrimaaran, whose "Visaranai" deals with police brutality and corruption, feels a film that's "anti-Indian" might not get government funding.
"This funding scheme will eventually work as an illegitimate censor board of India. It would really help filmmakers if such a funding is really based on the criteria they've mentioned. But if there's a hidden agenda in this funding 'scam', I feel this will hurt a lot of serious and sensible filmmakers," he added.
Monga, whose 2009 film "Kavi" was nominated for Oscars' Best Live Action Short Film category, emphasised on the need for right distributor and a good PR strategy.
"You need PR, advertising and screening support, plus living costs in Los Angeles," said Monga over phone from the Hollywood hub where she is watching screenings as an Academy member.
"You need to groom the market in the US for Indian films. It's not overnight that we wake up every September thinking 'Let's go to Oscars'. We are already late. The government should have regular PR companies in the US doing this year-long outreach for Indian cinema," she added.
She also said a solid and reputed American distributor to market a film in the US always helps.
"Lagaan" had Sony Pictures Classics as distributor.
This is also why there was brouhaha when India did not choose "The Lunchbox" — which had Sony Pictures Classics' backing — as its official entry to Oscars.
Monga says that was a "big mistake".