Advertisement

According to a leader of Communist Party of India-Marxist (CPI-M), the 11.5-feet fibre statue of Vladimir Lenin was brought down with a bulldozer by the activists on Monday evening….reports Asian Lite News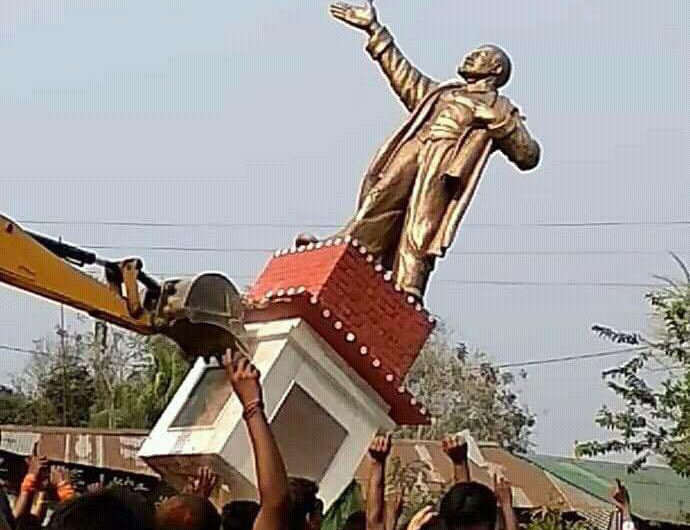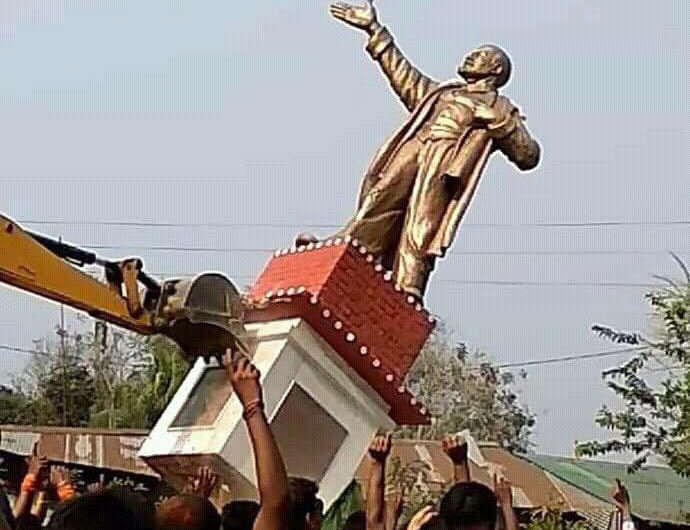 The post-poll violence in Tripura continued for the fourth day on Tuesday even as the administration, the Bharatiya Janata Party (BJP) and Communist Party of India-Marxist (CPI-M) urged everyone to maintain peace.
According to a leader of Communist Party of India-Marxist (CPI-M), the 11.5-feet fibre statue of Vladimir Lenin was brought down with a bulldozer by the BJP activists on Monday evening.
"The BJP supporters, chanting "Bharat Mata Ki Jai", knocked down the statue of Lenin near a government college in Belonia," CPI-M leader Haripada Das told the media on Tuesday.
He said the statue was set up a year ago in Belonia, South Tripura's district headquarters, around 90 km from Agartala.
"We are getting huge number of reports from different districts on Tuesday about BJP and IPFT workers attacking CPI-M members and supporters and demolishing their various assets," Das added.
Tripura Governor Tathagata Roy on Tuesday, in a tweet said: "What one democratically elected government can do another democratically elected government can undo. And vice versa."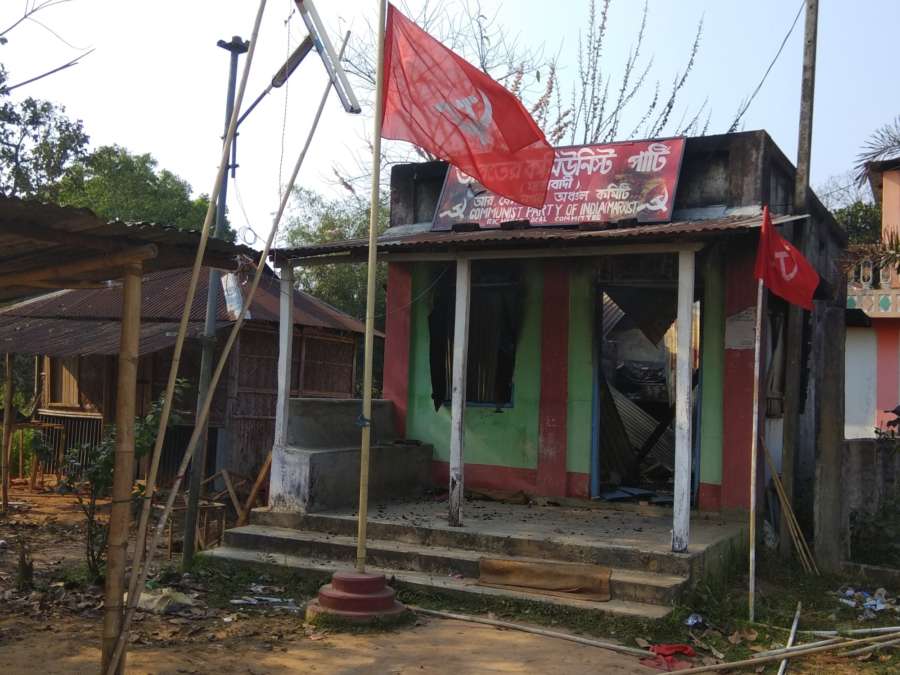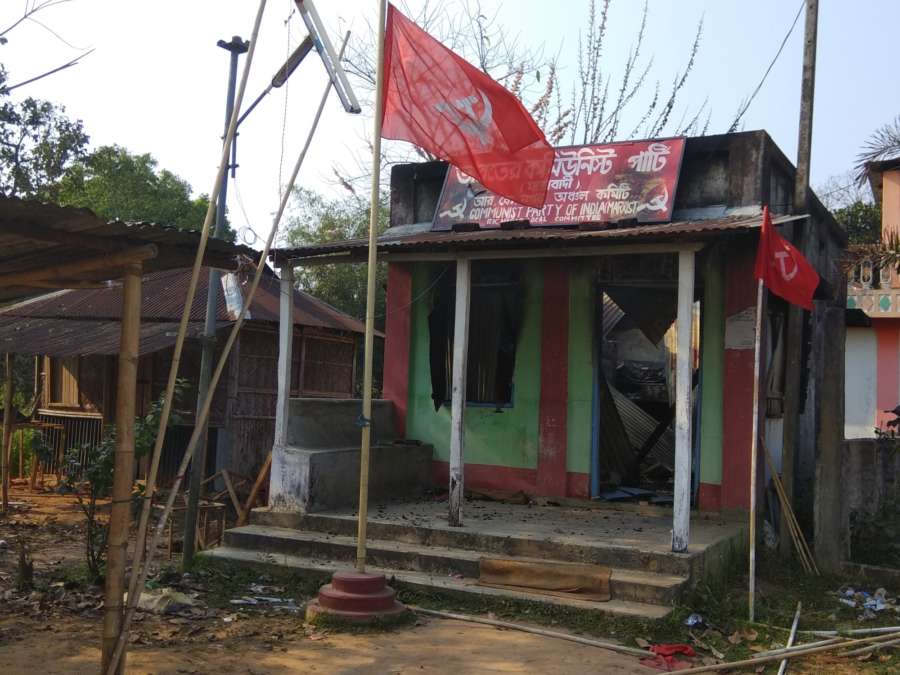 Roy is believed to have referred to instances of statues of leaders iconic to other parties demolished or defiled in the past in the state.
A media report said Home Minister Rajnath Singh on Tuesday spoke to the Governor and Tripura Police chief Akhil Kumar Shukla, requesting them to take steps to control the violence in the northeastern state, ahead of the swearing-in-ceremony of the new BJP government.
CPI-M Tripura secretary Bijan Dhar on Monday night alleged around 514 CPI-M supporters were injured in attacks by rival BJP-IPFT (Indigenous People's Front of Tripura) party workers in more than 200 places across Tripura since Saturday, after the declaration of the poll results.
"Arsoning, attacks and loot were carried out in around 1,539 houses. Many rubber gardens and small vehicles, hundreds of small shops, were forcibly occupied, ransacked or burned at around 500 places," Dhar told the media.
"We urge the administration and the BJP party leadership to take adequate measures to stop these post-poll violence immediately," said Dhar, also a CPI-M central committee member.
Accusing the CPI-M for "deliberately provoking and indulging in violence and attacks on BJP supporters", BJP Tripura Pradesh Vice-President Subal Bhowmik said according to the reports from different district party units, there have been 49 incidents of attacks on BJP workers and supporters by CPI-M cadres during the past 48 hours injuring 17 party men, who are now being treated in different government hospitals.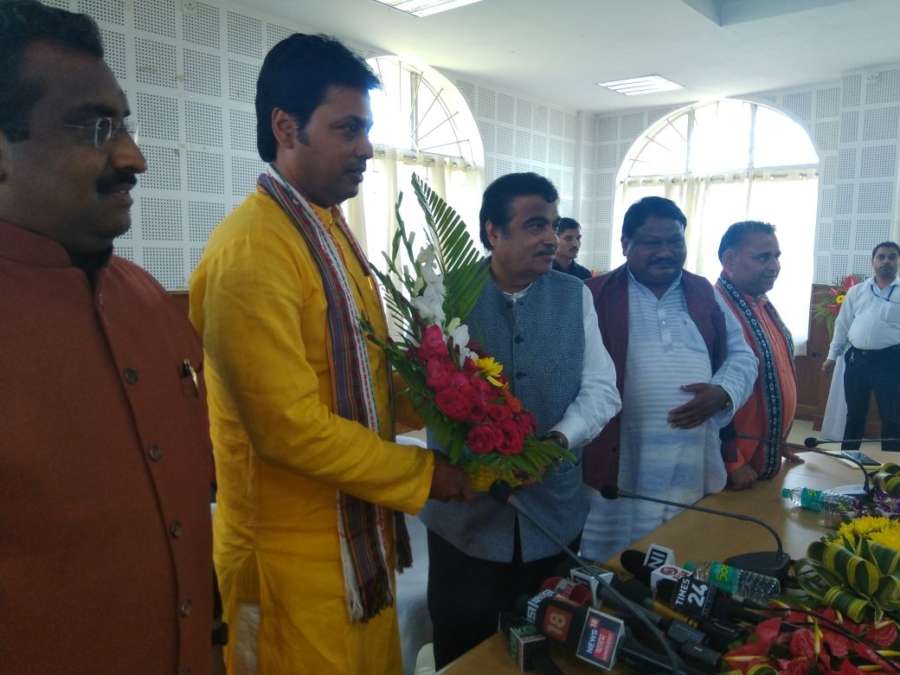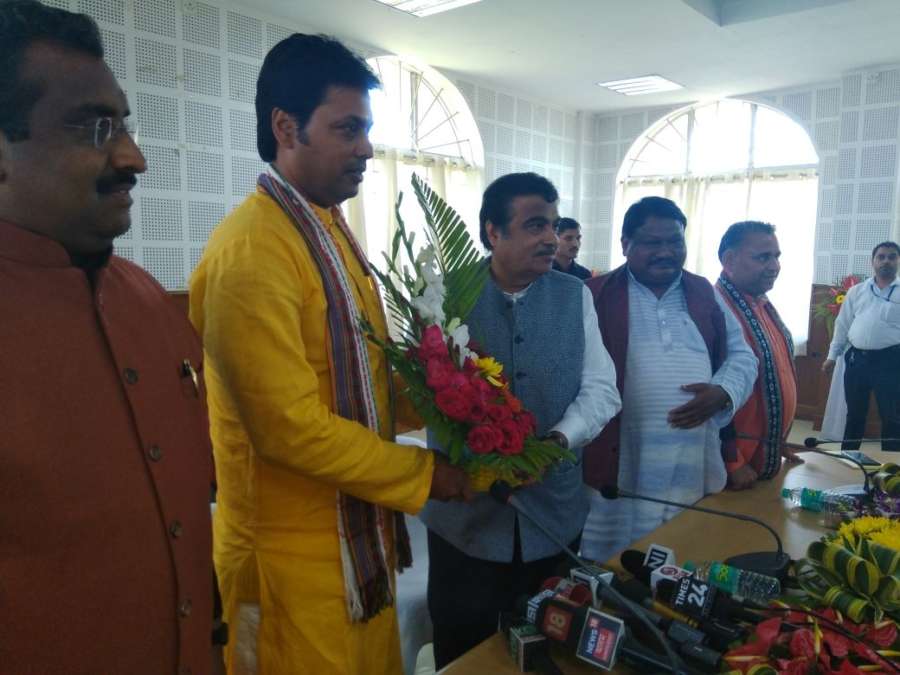 He warned all that law would take its own course against the attackers irrespective of party affiliations.
Meanwhile, following reports of clashes between the workers of the BJP and the CPI-M in different parts of the state, the district administration in several districts promulgated prohibitory orders and deployed additional security forces to foil the post-poll violence.
West Tripura district police chief Abhijit Saptarshi said police have arrested some people in Mandai in western Tripura for indulging in violence.
Meanwhile, West Bengal BJP chief Dilip Ghosh condemned the incident terming it as undemocratic.
"An ideology cannot be destroyed by breaking or demolishing something. Such incidents are not democratic," Ghosh told reporters.
Responding to the CPI-M's allegation of large scale violence and vandalism by the BJP and RSS against their partymen in Tripura, Ghosh said it is a small reaction of the locals and their party activists against the CPI-M's attack on them for the last 25 years.