Advertisement

Upcoming key macro-economic data points, coupled with the trends in global stock markets and the direction of foreign fund flows will influence the trajectory of key equity indices in the week ahead, analysts opined…writes Rohit Vaid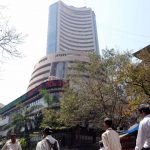 Additionally, the ongoing state elections, derivatives expiry and the rupee's movement against the US dollar — as well as global crude oil prices — will affect the sentiments of investors.
"Global growth concerns due to (the US-China) trade war, rising interest rates and lower liquidity in the financial markets will add to volatility," said Vinod Nair, Head of Research at Geojit Financial Services.
"However, the rise in US crude oil inventory and expectation of slow pace in US Fed's rate hike in CY19 could provide some support."
Besides global cues, investors will look closely at macro-economic data points such as the second quarter GDP numbers and the output of eight core industries (ECI).
In addition, the country's fiscal deficit numbers will be released during the week.
"The major event for the Indian equity market would be the GDP data at the end of this month, along with expiry," said Epic Research CEO Mustafa Nadeem.
"The numbers would certainly give a medium-term directional view for broader indices and decide the breadth for coming months. That said, we have elections in major states and a lot would depend on their outcome."
Nevertheless, lower crude oil prices are expected to arrest any sharp fall in the key indices and also limit the weakness in the Indian currency.
The UK Brent crude is currently priced around $59 per barrel, down from the four-year high of $86.07 recorded on October 4.
On a weekly basis, the rupee closed over five per cent higher at 70.67 per US dollar on Thursday from its previous week's close of Rs 71.92.
"Currently, domestic macros are looking favourable with a fall in the oil prices and drop in yield, which eases the concerns of current deficit. Consequently, it will influence FIIs (foreign institutional investors) to change their stance on the domestic market," Nair said.
In terms of investments, provisional figures from the stock exchanges showed that FIIs sold scrips worth Rs 856.61 crore in the week ended November 23.
On the technical charts, the National Stock Exchange's (NSE) Nifty50's short-term trend has turned bearish.
"The downtrend is likely to accelerate once the immediate support of 10,440 points is taken out," said Deepak Jasani, Head of Retail Research for HDFC Securities.
"Crucial resistances to watch on the upside are at 10,695 points and 10,775 points."
Last week, a global equities sell-off and domestic political uncertainty subdued the Indian equity market indices.
Accordingly, the S&P Bombay Stock Exchange (BSE) Sensex lost 476 points, or 1.34 per cent to close at 34,981.02.
Similarly, the 50-share Nifty of the NSE declined 155.45 points, or 1.45 per cent to settle at 10,526.75.