Advertisement

German Chancellor Angela Merkel said she wanted to work towards regaining the lost trust of the electorate after her political allies lost their absolute majority in Bavaria's regional parliamentary elections…reports Asian Lite News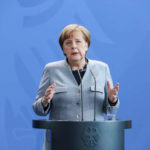 Merkel said that good economic figures and low unemployment were not enough for citizens if they lacked trust in political actors, a day after the Christian Social Union — a member of the ruling federal government coalition and the regional Bavarian counterpart to Merkel's Christian Democratic Union — saw a drop in vote share from 47.7 to 37.2 per cent.
"The lesson I take from yesterday (Sunday) is that I, as federal chancellor of this grand coalition, must also put more effort into regaining this trust so that the results of our work are made more visible," Merkel said during a speech at an economic forum.
"And I will do this with all my might," she was quoted as saying by Efe news.
The CSU lost its absolute majority in the Bavarian Parliament after Sunday's elections, obtaining 16 seats less than in the previous regional ballot in 2013.
Merkel said the grand coalition in Berlin — formed by the CDU, the CSU and the Social Democratic Party (SPD) — had failed to clearly communicate its work and achievements.
"This is also true of the Union parties (CDU and CSU), which are expected to work together," she added.
The background for this comment was likely the barrage of constant attacks by Interior Minister and CSU leader Horst Seehofer, a hardliner with an anti-immigration and anti-Muslim stance similar to the one espoused by the far-right Alternative for Germany (AfD) party, on Merkel's refugee policy.
Meanwhile, the third wheel in the government alliance, the SPD, plummeted to a paltry 9.7 per cent of the vote in Bavaria, an 11 per cent collapse that was being mirrored in recent nationwide polls.