Advertisement

Senior Congress leader A.K. Antony accused Prime Minister Narendra Modi of "gravely compromising national security and defence preparedness" by reducing to 36 the number of Rafale fighter jets purchased from France…reports Asian Lite News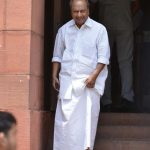 "In 2000, the Indian Air Force (IAF) told the then NDA government that they require at least 126 fighter aircraft. With threats looming on both eastern and western borders, modern air power is very crucial.
"In the present context, the threat perception has increased substantially and the IAF needs more than 126 fighters at the earliest. However, instead of catering to the need, the Modi government seriously jeopardised national security and air combat preparedness by unilaterally ordering only 36 Rafale jets," the former Defence Minister told the media here.
Only the Defence Acquisition Council (DAC) can decide on the number of aircraft and weaponry required, Antony said and added that Modi's announcement in 2015 to procure only 36 jets was a "grave violation" of the Defence Procurement Procedure (DPP).
"When Modi made the announcement in 2015, the DAC's approved proposal for acquiring 126 Rafale jets was still alive. We would like to know when the DAC cleared the proposal for 126 aircraft, and who authorised Modi to reduce the number to 36," the senior Congress leader asked.
He also lambasted Defence Minister Nirmala Sitharaman on her claim that state-run Hindustan Aeronautics Limited (HAL) did not have the required capability to produce the jets in India.
"She has tarnished the image of HAL, which is the only company that can manufacture the fighter aircraft in India. We don't know what her intentions were in ridiculing a public sector undertaking under her own Ministry," said Antony.
He reiterated his party's demand for disclosing the price of the jets negotiated by the previous UPA government and the present NDA regime as well as a Joint Parliamentary Probe (JPC) into the matter.
"Since there is a growing perception that the Modi government's Rafale deal has more skeletons in its closet, let there be a JPC to bring out the truth," the former Union Minister said.