Advertisement

Twelve years after the sensational killing of Sohrabuddin Shaikh, his associate Tulsiram Prajapati and rape-cum-murder of Kausar Bi, a Special CBI Court acquitted all 22 accused in the politically sensitive case, saying "witnesses and proofs were not satisfactory"…reports Asian Lite News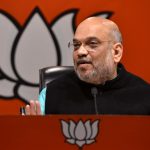 "Witnesses and proofs the prosecution put forward were not satisfactory to suggest or establish the alleged conspiracy and murder in the 2005 encounter killing," said Special CBI Judge S.J. Sharma, who also observed that "the documentary and circumstantial evidence was not substantial".
The much-awaited verdict in the case came more than 12 years after the alleged 'fake encounters' of Sohrabuddin and his associate Prajapati, besides the rape-and-murder of Sohrabuddin's wife, Kausar Bi.
The 22 accused, including 21 lower police officials of Gujarat-Rajasthan police, who have been acquitted are: M.L. Parmar, Raman Singh, Narayansing Dhabi, Shyam Singh, Abdur Rehman, Himanshu Singh Rajawat, Balkrishna Choubey, Rajubhai Jeerawala, Ajay Parmar, Shantram Sharma, Yudhveer Singh, Kartar Singh, Narayan Singh Jat, Vijaykumar Rathod, C.P. Srinivasa Rao, Jethu Solanki, Kiran Singh Chauhan, Vinod Limbachia, Kanjibhai Kutchi, Karan Singh Sishodia, Ashish Pandya, and Naresh Chauhan.
According to the prosecution, the Gujarat Anti-Terrorist Squad (ATS) had gunned down Sohrabuddin on November 26, 2005, in an alleged staged killing.
Prajapati was also killed in a similar fashion on December 28, 2006, while Kausar Bi, who had witnessed the abduction of her husband (Sohrabuddin) was later raped and murdered.
These killings kicked off a major political controversy in the Bharatiya Janata Party-ruled Gujarat then, with allegations of the purported involvement of several top political bigwigs, IPS officers and other officials.
The prosecution contended that Sohrabuddin had connections with the Lashkar-e-Taiba and other terror groups and was conspiring to assassinate "an important political leader" presumably the then Gujarat Chief Minister Narendra Modi, who is now the Prime Minister.
A total of 37 accused were named in the case of whom 16 — mostly politicians and IPS officers — were subsequently discharged by the Special CBI Court in Mumbai and another by the Bombay High Court.
Among those discharged initially were BJP President Amit Shah, who was the Gujarat Home Minister at the relevant time, the then Rajasthan Home Minister G.C. Kataria, high-profile ATS chief and DIG D.G. Vanzara, Superintendents of Police M.N. Dinesh and R.K. Pandian, among many others.
Interestingly, after appeals from various quarters, the politically-sensitive trial was shifted from Gujarat to Mumbai by the Supreme Court in September 2012.
When the Special CBI Court recorded the statements of the remaining 22 accused during the trial, all claimed "innocence" and said they were nabbed owing to rivalry among the Gujarat top police brass and related factors stemming from the then political situation prevalent in that state.
Of the 210 witnesses examined during the trial, 92 turned hostile, seriously undermining the CBI case, prompting the CBI counsel B.P. Raju to admit to 'lacunae' in the probe as the Sohrabuddin encounter took place in 2005, Prajapati in 2006, but CBI came into the picture only in 2010.