Advertisement

Andhdra Pradesh Chief Minister N. Chandrababu Naidu was posing as a national-level leader to hide his failures in the state and the results of assembly polls in Telangana will badly backfire on him and the Congress for any alliance at the Centre, says TRS leader K. Kavitha…writes Prashant Sood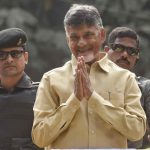 Kavitha, an MP who is daughter of Telangana Chief Minister K. Chandrasekhar Rao, told IANS in an interview that Telangana Rashtra Samithi will win the assembly polls hands down and it will then start working towards a national alternative which does not have BJP or Congress.
"Basically, Chandrababu Naidu is losing ground in Andhra Pradesh so he wants to pose as a national level leader so that there might be some advantage in Andhra Pradesh. To make sure his failures in Andhra Pradesh are not be highlighted, he is diverting people's attention to the so-called national level alliance but it will backfire very badly both for him and Congress also," Kavitha said.
She was asked about efforts by Naidu to bring opposition parties together to take on Prime Minister Narendra Modi and the BJP-led alliance in the 2019 Lok Sabha polls and if he could emerge as a pivot of opposition unity.
"Because in Telanagana results, you will see that this alliance has been beaten. Do you think it will be taken at the national level once it is beaten at the state level? All the effort Naidu is making is to divert the attention of people from his own administration in Andhra Pradesh," she said.
Naidu and leaders of several other opposition parties are slated to meet in the national capital on Monday to decide the way forward to take on the BJP-led NDA.
Naidu, who was part of the National Democratic Alliance, had quit it earlier this year and allied with its traditional rival Congress in the Telangana polls.
The CPI and the Telangana Jana Samithi (TJS), a new party floated by M. Kodandaram, who was once Chief Minister K. Chandrasekhar Rao's friend in the Telangana movement, are also part of the alliance.
Kavitha said an alternate political platform should be encouraged.
"We are going to anyway wins down hands down the assembly polls so the impact will be positive in the Lok Sabha in polls and we will win all the seats. We are very confident about it. We will not ally with anybody. We proposed a federal front which will have no BJP, no Congress. People have given them a lot chance. There should be an alternate politial platform in the country which should be encouraged. TRS will play a role great role in forming this political platform. After assembly polls, we will start focusing on the national agenda," she explained.
She said the December 11 results will show that the alliance – People's Front – has been rejected, adding the opposition parties had also come together in previous bypolls but lost.
"This alliance has been constantly working against the interest of our state. We have an oppostiion which is very irresponsible," Kavitha said and alleged Congress had sought to stall a major irrigation project through court cases.
She said the alliance has hit credibility of both the TDP and the Congress.
"TDP was fundamentally formed to oppose Congress. It was N.T. Rama Rao's wish. Now, the current day TDP has compromised its own core philosophy and principles. Now, if a political party has compromised its own core ideology, the people are bound not to take it seriously anymore. That is what happened to TDP allying with Congress. It will hit them hard."
She said the party had implemented all its promises and had striven to win around 100 of the 119 seats in the assembly.
She said rallies of Prime Minister Narendra Modi and UPA Chairperson Sonia Gandhi had little impact and said BJP was not a factor in the state.
Asked about the decision to go for early polls, she said the idea was to make sure that the narrative of the election is about and around Telangana
"If we had election around the parliamentary election, the discussion would be mandir, masjid, Rafale, Bofors and which would have nothing for Telangana. The effort that TRS our leader put in for four-and-a-half years should not go waste," Kavitha explained.