Advertisement

With the impending US sanctions on Iran, as also the ongoing quarterly earnings season and the upcoming festival of Diwali, the Indian equity market is likely to witness a short but eventful trading week ahead…reports Asian Lite News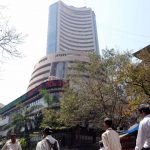 Among the global factors, the US reimposing sanctions on Iran from Monday (November 5) is seen as a major depressant for global investor sentiment, which would eventually reflect on the Indian market.
"The coming week is truncated on account of festivities in India, but (dotted with an) important series of events within and outside the country. The week will begin with the global blockade against Iran followed by the US legislative elections, apart from ongoing corporate earnings in India," said Rahul Sharma, Senior Research Analyst with Equity99.
"While the mood will be cheerful due to Diwali, these events will dictate market movement and investors should follow a cautious approach during the three-day trading week," he added.
Trading at stock exchanges, however, won't take place on November 7-8 on account of Diwali, other than the brief traditional Muhurat Trading on Diwali day.
Meanwhile, the US has temporarily allowed eight countries to continue buying oil from Iran, and India features in the list, according to media reports. This would most likely soothe Indian market sentiments.
Another geopolitical matter that the markets would follow is the US-China trade talks. Trump last week said his conversation with his Chinese counterpart Xi Jinping laid "heavy emphasis on trade" and also described it as "long and very good".
Further, the ongoing quarterly earnings would also influence the stock market in the next few trading days, analysts believe. Corporate results were a major factor for the substantial gains made by both key equity indices during the week ended Friday (November 2).
For the week under review, the S&P Bombay Stock Exchange (BSE) Sensex gained 1,662.34 points, or 4.74 per cent, to close at 35,011.65.
The 50-share Nifty of the National Stock Exchange (NSE) advanced 523 points, or 5.21 per cent, to settle at 10,553.
Investor sentiments also improved with the downward movement in crude oil prices.
"The benchmark Brent crude fell six per cent this week and 16 per cent since the beginning of October to $72.91 a barrel as fears of oil shortage faded," said Sharma.
Analysts are of the view that value-buying by investors after the fortnightly loss also supported the Indian equity market in the week gone by.
Provisional figures from the stock exchanges showed that foreign institutional investors sold shares worth Rs 5,706.24 crore during the week, whereas domestic institutional investors bought Rs 6,377.02 crore worth of stocks.
Figures from the NSDL showed that foreign portfolio investors divested Rs 4,232.05 crore in the equities segment during the week ending November 2.
On the technical outlook for the upcoming week, Deepak Jasani, Head of Retail Research at HDFC Securities, said the NSE Nifty50 would witness resistance at 10,710 points and is likely to receive support at 10,460 level.