Advertisement

Youngsters, opener Prithvi Shaw and wicketkeeper-batsman Rishabh Pant, are making the most of the opportunities they are getting even as many of their teammates are yo-yoing with injuries and fitness problems…reports Asian Lite News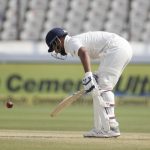 Shaw looked good to getting a second hundred on the trot in his second Test before the compulsive stroke-maker got out for 70 while Pant, who missed a century in the first Test by eight runs, got out again for 92 in the second in Hyderabad. Both are in the fast lane.
Another batsman who got down to run-making is Ajinkya Rahane just when questions are being asked about his utility to the side.
Rahane and Pant hit back just when the West Indies appeared to have recovered some ground after their massive defeat in the first Test by posting a first-innings core of 311.
But the second new ball on the third morning brought the West Indies back into the game, their captain Jason Holder taking five wickets, the first pace bowler from the Caribbean to do so in India in almost 25 years.
With the World Cup nine months or a possible 18 One-Day Internationals (ODI) away, India's national selectors and the team management were gloating over the number of choices they have in picking the squad.
What should be worrying the selectors is the number of the injured in over a year, some in danger of breaking down again.
The selectors have found a way to smokescreen injuries to some key players by saying they are rested or rotated taking their workload into consideration.
Actually, it appears they are being given time for rehabilitation. This led to speculation over the nature of injuries.
The injuries have come at a time when national coach Ravi Shastri and captain Virat Kohli have been stressing on full fitness so that the players can give their hundred percent on the field. They also raised questions over the usefulness of the National Cricket Academy (NCA) and its rehabilitation programme.
India can field a squad full of players who have recovered from injuries and they include skipper Virat Kohli who has suffered neck and lower back injuries in recent months.
Intriguingly, it is now being whispered that some of the injured carried what were diagnosed as niggles into the Indian Premier League (IPL), and soon they aggravated them into full blown injuries to miss international matches.
The squad of the injured in the last two years makes depressing reading:
Virat Kohli, Lokesh Rahul, Ajinkya Rahane, Manish Pandey, Ishant Sharma, Mohammad Shami, Umesh Yadav, Shardul Thakur, Varun Aaron, Rohit Sharma, Murali Vijay, Ravichandran Ashwin, Ravindra Jadeja, Axar Patel, Hardik Pandya, Wriddhiman Saha.
The 'Yo-Yo' test is touted as both panacea to force players to take their fitness seriously and punish malingers. Two of the recent casualties were Ambati Tirupathi Rayudu, who had to miss the tour of England for the One-Dayers and Shami, who missed the one-off Test against Afghanistan because they failed the test.
Old-timers are critical of the 'Yo-Yo' test being used a yardstick for selection, ignoring a player's overall utility to the team. During their time some of them claimed that players alone know the level of fitness they need to be a good batsman or bowler. Their argument was that they excelled in their chosen areas plus their reflexes were good enough to dive and take catches.
It is not that injuries are peculiar to only the Indians. The now retired South Africa captain Faf du Plessis, AB de Villiers and Quinton de Kock all missed matches against India early this year and the first-named also had to miss matches during the subsequent tour by Sri Lanka.
Australian pace bowlers Mitchell Johnson, Pat Cummins, James Pattinson and Josh Hazlewood all suffered back injuries early in their careers.
They tried to determine their workload using sports medicine methods like strengthening the bones by making the fast bowlers bowl 25 overs over a week in three or four sessions, but Johnson was not happy with the programme as bowlers will still be getting injured.
What the coaches and the sports medicine experts are worried is how to determine the workload of a promising fast bowler or a batsman whereas the selectors are more concerned about the seniors.
Injuries are part of sport and yet there are quite a few Indian cricketers who had long careers without missing a game with an injury.
There have been cricketers who played without getting dropped because of injury. Kapil Dev, Rahul Dravid, Mahendra Singh Dhoni, Alastair Cook, Virat Kohli, Brendon McCullum, Mike Hussey readily come to mind as perfect examples, some of them played in all three formats of the game.
Clearly, there has to be a balance and targeting the NCA is not the solution, only the fitness regimen and methods to deal with cricket injuries need revamping.