Advertisement

A day after being convicted and sentenced to life-imprisonment in an 1984 anti-Sikh riot case, Sajjan Kumar resigned from the primary membership of the Congress…reports Asian Lite News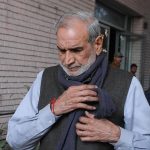 The former Lok Sabha member in a letter to Congress President Rahul Gandhi said he was resigning from the party with immediate effect, said party sources.
Elected thrice to the Lok Sabha from the Outer Delhi constituency, the latest being 2004, Kumar had being sidelined by the party since 2009 when he was denied ticket to contest the general elections following allegations of his involvement in the riots which the High Court described as "crime against humanity".
While Kumar on the day refused to interact with the media, his lawyers said they were in process of approaching the Supreme Court against the conviction by the Delhi High Court.
Meanwhile, Gandhi who is said to have accepted Kumar's resignation, refused to comment on the convicted leader.
Addressing the media in Parliament complex, Gandhi said his press conference was about the Narendra Modi government and farmers loans issue.
"I have made my position on the riots very clear, this press conference is about the farmers," replied Gandhi when asked to comment about Kumar.
Barring Punjab Chief Minister Amarinder Singh, who welcomed Kumar's conviction, Congress leaders mostly have refrained from commenting on the issue saying the conviction should not be "politicised".
Facing intense attacks from the Centre's ruling Bharatiya Janata Party (BJP) and ally Shiromani Akali Dal, the Congress also raked up the 2002 Gujarat riots to target the saffron party and Modi who was then the Gujarat Chief Minister.