Advertisement

US President Donald Trump said that Saudi Crown Prince Mohammed bin Salman had denied any knowledge of the disappearance of journalist Jamal Khashoggi…reports Asian Lite News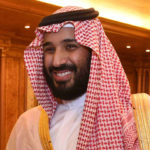 Trump tweeted that he "just spoke with the Crown Prince of Saudi Arabia who totally denied any knowledge of what took place in their Turkish Consulate."
"He was with Secretary of State Mike Pompeo during the call, and told me that he has already started, and will rapidly expand, a full and complete investigation into this matter," he said. "Answers will be forthcoming shortly."
The US Department of State said earlier on Tuesday that Pompeo agreed with Saudi Arabia during his stay in the country on the importance of conducting a "thorough, transparent, and timely" investigation in the disappearance of Jamal Khashoggi.
The case of Khashoggi, a journalist and columnist for The Washington Post, has become a major source of tension between the Kingdom and the West.
Khashoggi has been missing since he entered the Saudi Consulate in Istanbul on October 2.
Unconfirmed reports said that Khashoggi was likely killed inside the compound, a claim denied by Saudi officials as "baseless."