Advertisement

Sikkim has won the UN Food and Agriculture Organisation's (FAO) Future Policy Gold Award for its achievement in becoming the world's first totally organic agriculture state…reports Asian Lite News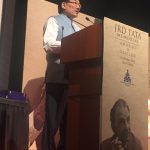 The 2018 award announcement on Friday said: "Sikkim is the first organic state in the world. All of its farmland is certified organic. At the same time, Sikkim's approach reaches beyond organic production and has proven truly transformational for the state and its citizens."
Uniquely, the state has totally banned the sale and use of chemical pesticides.
"Sikkim sets an excellent example of how other Indian states and countries worldwide can successfully upscale agroecology," the announcement said.
Nicknamed the "Oscar for best policies", the award is co-organised with the FAO by The World Future Council (WFC) and IFOAM — Organics International, and recognises "the world's best laws and policies promoting agroecology".
Sikkim beat out 51 other nominees from around the world for the award.
Brazil, Denmark, Quito and Ecuador shared the Silver award.
Prem Das Rai, the Sikkim Democratic Front MP who was here as a member of the Indian delegation to the General Assembly, told IANS: "The people of Sikkim have to be congratulated for staying the course and supporting the organic farming policies to make them a success."
"Chief Minister Pawan Kumar Chamling framed the policies with great foresight and led from the front to make Sikkim 100 percent organic," he added.
The World Future Council said that Sikkim's organic farming policies went beyond agriculture and embraced "socioeconomic aspects such as consumption and market expansion, cultural aspects as well as health, education, rural development and sustainable tourism".
"The transition has benefited more than 66,000 farming families," the Council said.
Simultaneously the tourism sector has benefited greatly from the state's transition to organic farming with the number of visitors increasing by over 50 per cent between 2014 and 2017.
Starting with a political commitment to support organic farming in 2003, Sikkim designed in 2010 the Sikkim Organic Mission which was "a road map that clearly detailed all the measures necessary to achieve the target of becoming a fully organic state by 2015", the FAO said earlier.
With the 100 per cent organic farming goal, Sikkim took ground-breaking steps "to reverse the prevailing economic logic, which favours forms of food production failing to preserve the biodiversity and ecosystem functions agriculture depends on," it said.