Advertisement

Sri Lanka's main political parties filed petitions in the Supreme Court on Monday challenging President Maithripala Sirisena's dissolution of Parliament and Speaker Karu Jayasuriya called on public servants to refuse to execute any "illegal" orders they may receive in the midst of an ongoing political crisis…reports Asian Lite News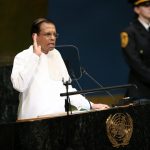 The political turmoil escalated in the island nation when Sirisena dissolved Parliament on Friday and called for a snap parliamentary election on January 5, over two weeks after sacking Prime Minister Ranil Wickremesinghe and replacing him with former strongman Mahinda Rajapaksa.
The parties which filed Fundamental Rights petitions on Monday included the United National Party led by sacked Wickremesinghe, the main opposition Tamil National Alliance, the Janatha Vimukthi Peramuna, the Tamil Progressive Alliance and the All Ceylon Makkal Congress.
The petitioners said Sirisena had no powers to dissolve the Parliament under the 19th amendment of the Constitution and requested the apex court to issue an order voiding the gazette issued by Sirisena and to suspend the upcoming parliamentary election until a verdict was announced.
The petition filed will be considered later in the day by a three-judge Supreme Court bench including Chief Justice Nalin Perera, according to Xinhua news agency.
Speaker Jayasuriya said in a statement that every citizen who was entrusted with responsibilities under the Constitution, should think first of the country and not of party politics or personal affiliations.
"Under these dire circumstances, I urge all public servants who have sworn an oath to defend the Constitution to revisit that oath.
"I call upon all public servants to refuse to execute any illegal orders they may receive, no matter from whom," he added.
Jayasuriya also had requested Sirisena to convene the Parliament immediately to see which party held a majority.
Sirisena's sudden move to dissolve the Parliament came one and a half years ahead of the scheduled parliamentary polls.
Meanwhile, a member of the country's Election Commission, S. Ratnajeevan H. Hoole, joined the political parties in challenging the Parliament's dissolution.
Hoole along with two other members of the poll body called the President's move "illegal".
On Saturday, when the Election Commission met for the first time after Sirisena's illegal sacking, Hoole refused to sign the order directing Commissioner General of Elections to begin preliminary administrative work on holding the polls.