Advertisement

Sri Lanka's political turmoil continued into its third week, with the government and the former ruling United National Alliance (UNA) quarrelling with each other…reports Asian Lite News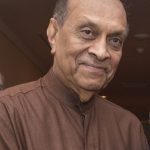 The government reiterated that it would continue in governance while the former ruling UNA said it would not recognize the government and called for financial cuts.
Parliament proceedings began on Monday afternoon but lasted only for 10 minutes and was adjourned till November 23 by the Deputy Speaker of Parliament.
Speaker KaruJayasuriya, who held an All Party Conference in his Parliament Chamber before the proceedings began, did not attend the session on Monday.
Dinesh Gunawardena, leader of the MahajanaEksathPeramuna and a supporter of Prime Minister Mahinda Rakapakse, told journalists that they urged Speaker Jayasuriya to recognize the government as the No Confidence Motions which had been conducted last week in parliament had been unlawful.
Rauff Hakeem, leader of the Sri Lanka Muslim Congress, who is a part of the United National Alliance, told journalists that in the All Party Conference held in Parliament, legislators proposed to call for a vote on the trust vote against the government again, this time by name or an electronic voting system but this was turned down by the "purported government".
He said a motion to halt the funds distributed to the Prime Minister had been submitted, which would be debated and voted in Parliament on November 29.
Hakeem further said that several measures to protest against the "purported government" would be carried out in the coming days.
Meanwhile, President Maithripala Sirisena thanked all party leaders and legislators for adopting a "peaceful and consensual course of action at the Parliament," following his meeting with all the party leaders on Sunday evening.
At the party leaders meeting, Sirisena had urged legislators to call for a No Confidence vote on the government again after he rejected the vote which was held in Parliament of Friday saying it was unconstitutional.
Sri Lanka has been embroiled in a political turmoil after Sirisena on October 26 surprisingly sacked his cabinet and Prime Minister RanilWickremesinghe and appointed former President Mahinda Rajapakse to the post and appointed a new caretaker government.