Advertisement

Mexican street artist and graphic illustrator, Edgar Flores 'Saner' known for his visual satire, says that although art has an "obligation" to speak about political moments, street artists must respect local sentiments as he executes his large scale mural in Delhi bylanes…reports Asian Lite News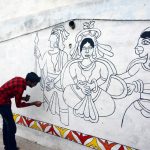 Working on a "vivid, colourful tribute to the rich cultures" of the two countries in an Indo-Mexican mural in the Lodi art district here, Saner told IANS: "I think street art is very interesting, because whoever sees it, has an opportunity to say something about it."
Combining Indian and Mexican motifs the "Discover India and Mexico" project, which would be "a bridge between two cultures", will not be an "aggressive message" as is usually known of the artist's work that speaks of themes like violence, anger, anxiety and fear.
"What I did not want to do (here) is give a strong or aggressive message. My work here is a vivid, coluorful tribute to cultures of India and Mexico. Wall murals are moments for people to just stand and appreciate what is painted.
"You have to respect the streets, the people, and the neighbourhoods. (Through the mural,) We wanted to have a visual interaction with the local neighbourhood.
"If we paint something aggressive, it provokes bad reactions daily. The idea is that the world has enough bad reactions, we don't need more," the 37-year-old artist said.
When asked about what Indian motifs he would utilise, Saner said: "Some iconic plants and animals, tigers, symbols from Hindu mythological stories, and traditional clothes of women."
Known for being among the most popular contemporary artists of Mexico, he added "when something political happens" he tries to "make and say something".
"It's my obligation. But every person has an opinion and a talent, and my talent is images. For India, it's different because I don't know the context," he added.
Saner, who started out as a graffiti artist in the late 1990s in Mexico City, creates masked characters and uses colours vividly, that makes his art easily recognised and distinct.
He attributes this to the Mexican street art influence.
"I, like all Mexicans, grew up under the rich influence of the street art. The muralist tradition of Mexico is really old, because it comes from the time of Aztecs and Mayans (indigenous occupants of central and south American countries), who started painting murals."
The moment of change — the Mexican mural movement in 1920s — came with artists Jose Clemente Orozco, Diego Rivera and David Alfaro Siqueiros.
The government, Saner said, used murals as an educational tool for a mostly illiterate populace.
"The best way to pitch to the people was through images, so they started to make big murals to tell the story of our past. Murals now, are more individualistic and depend on what each artist wants to say," Saner explained.
The illustrator has previously painted wall murals in Australia, New Zealand, Morocco, Tunisia, Italy, Germany, France, the US, Colombia, and Peru, among others, and thinks that street art is picking pace, and is "the voice of the moment".
Saner, who has more than 1.14 lakh followers on Instagram, also freely uses the social media as another wall to exhibit his creativity.
"We don't need borders because through internet, we just cross (over). We don't need walls between us."
Saner has been invited to India by St+art India Foundation, the Mexican Embassy, the Central Public Works Department, and Asian Paints.