Advertisement

Until that evening in Jakarta when the country celebrated her success with much fanfare, everything about heptathlete Swapna Barman spelt hardship. From extreme poverty to physical deformity of the kind that threatened to time and again derail her ambition, Swapna pushed every odd to its limits on course to become the first Indian heptathlete to win an Asian Games gold…reports Asian Lite News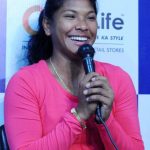 But by the 21-year old's own admission, getting a government job, and certainly not a gold medal, was her priority when she set sail.
"When I started with high jump in my locality and used to take part in local competitions back home, my target was to somehow get a government job. That was my dream then," Swapna told IANS here.
Swapna is the youngest among four children of her parents, who even now struggle to make ends meet. Belonging to the Rajbongshi tribe in North Bengal, Swapna's mother worked as a maid and doubled up as a plucker in the tea gardens.
Her father, Panchanan Barman, pulled a van rickshaw until he became bedridden following a stroke seven years ago.
"My other three brothers and sisters struggled to make a living. I am the youngest. So my father thought if I eke out something from sports, that would be helpful for the family.
"All I wanted was a small-time job," said Swapna, who besides financial hurdles had to overcome the hurdle of having six toes in both her feet to produce her career-best performance by logging 6,026 aggregate points from the gruelling seven events spread across two days in August.
"My dream now is to take my country further ahead and make all of you proud," added Swapna, while continuously stressing that she should not be treated differently now as the journey has just begun.
In Jakarta, she competed with a tape on her right cheek to lessen pain arising out of a tooth infection. "I could not eat anything before my event. I was so ill I cannot tell you. I only knew I had to do this. All these years of struggle rested on this."
Her story began in a narrow lane between paddy fields that leads to Ghoshpara village where Swapna ran for the first time in her life.
"I got a glimpse of Swapna Barman for the first time in 2011 in Jalpaiguri, which is also my native place. I have a few students there and they told me, 'Sir take her along with you to Kolkata, she is very good'," recalled her long-time coach Subhas Sarkar who, among others, has also trained track and field athlete Hari Shankar Roy.
A Sports Authority of India (SAI) trainer since 1992, Sarkar said Swapna's diminutive stature and stocky built did not impress him initially. It was Raikot Para Sporting Association secretary Samir Das who pushed Sarkar to take her along with him. Swapna used to train here before moving to the SAI Eastern Centre in 2012.
According to Sarkar, Samir — who passed away in June this year — had warned that she would soon start working in the tea garden with her mother if she did not get proper exposure. In a 2011 school meet in Ludhiana, Swapna bagged gold in high jump. Coach Sarkar was still not impressed, but Swapna started to show meteoric growth in the next few years.
"I was surprised to see her talent. In 2012, she scored 57, 61, 63, 67, 71 in high jump. Within two years, she made 2-3 junior national records in high jump. One extraordinary quality she had was her adaptation and following the technique part. She was above average," Sarkar said.
Sarkar then made the shift for Swapna from high jump to heptathlon.
"Her height was a worry in high jump and, seeing her potential, I was sure she had it in her to win an Asian Games medal. So I decided to shift her to heptathlon."
In her first event, after the shift, Swapna racked up 4,431 points and got silver at Guntur in 2013.
From then on, Sarkar said, Swapna took off and never looked back.
At the age of 17, Swapna took part in the 17th Federation Cup Senior Athletics Championships and qualified for the Icheon Asian Games in South Korea, scoring 5,400 points in heptathlon.
In the 2014 Asiad, Swapna finished in fifth place with 5,178 points and coach Sarkar felt she was on track to achieve a podium finish in the future.
But as fate would have it, social problems and a career-threatening back injury stretching from 2015 to 2016 forced her to return home and contemplate never taking the field again.
Brought back into the fold by coach Sarkar, Swapna clinched gold in the Asian Athletics championships in 2017 with 5,942 points but performed poorly while aggravating her injury at the World Athletics Championships the same year in London.
Before the Asiad, when all was going according to plan and Swapna was confident of hitting the 6,200-point mark, a spate of injuries ranging from ankle, hamstring, lower abdomen and a Grade 3 meniscus tear during the national camp in Patiala threatened to derail her campaign once again.
But this time, as coach Sarkar said, both of them were determined to not let it go. So Swapna skipped going under the knife, travelled to Indonesia even as Athletics Federation officials were not sure of her fitness, and achieved what she had not set out for in her initial years.
Swapna will have to do it all over again as she targets hitting the 6,300 plus point zone ahead of 2020 Olympics. In 2019, she is unlikely to participate in any major competition as she needs to recuperate fast.
"If I can win gold despite an excruciating tooth ache, I am sure I would do better in future when fully fit," Swapna declared.