Advertisement

Yemen's internationally-backed President Abdu-Rabbu Mansour Hadi appointed a new Defence Minister to lead the country's armed forces…reports Asian Lite News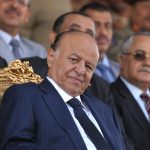 According to state-run Saba news agency, Hadi issued a presidential decree and appointed Lt. Gen. Mohamed Ali Al-Maqdishi to the top post.
The country's armed forces have remained without a Defence Minister for more than three years following the detention of the former minister Mahmoud Subaihi in March 2015 by the Houthi rebels near the southern port city of Aden.
In Hadi's another presidential decree, Abdullah Salim Nakhi was named the country's new Chief of Staff, Saba reported.
In addition, Ahmed Salim Rubea was appointed the new Governor of the Aden, which is considered Yemen's temporary capital.
The appointment of new military commanders coincided with the ongoing military operations aimed at liberating the strategic port city of Hodeidah and other areas from the control of the Houthis.
The Houthis, aligned with Iran, launched a big military campaign and seized the capital Sanaa in late 2014, forcing Hadi and his government to flee to Aden.
The pro-Houthi forces backed by armoured vehicles attacked Aden later and shelled Hadi's Presidential Palace, leading to his exile in neighbouring Saudi Arabia.
In March 2015, Saudi Arabia led a pan-Arab coalition to intervene militarily and began to pound the Houthi-controlled Sanaa, in response to an official public request from Hadi to protect Yemen and roll back Iran's influence.
The internal military conflict between the Iran-backed Houthis and the Saudi-backed Yemeni government entered its fourth year, aggravating the suffering of the Yemenis and deepening the world's worst humanitarian crisis.
The ongoing fighting between the two warring rivals with daily Saudi-led airstrikes plunged the most impoverished Arab country in the Middle East into more chaos and violence.
Three quarters of the population, or more than 22 million people, urgently require some form of humanitarian help, including 8.4 million people who struggle to find their next meal.