Advertisement

Prime Minister Theresa May has sparked a fresh debate on migration as she described Brexit deal will stop EU migrants "jumping the queue"…reports Asian Lite News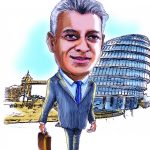 Addressing the CBI conference in London, Mrs May said migration would become skills-based, with Europeans no longer prioritised over "engineers from Sydney or software developers from Delhi".
London Mayor Sadiq Khan and Scottish First Secretary Nicola Sturgeon were among the top leaders objecting the government stand on EU migrants.
Sturgeon says the PM's remarks on EU free movement were "offensive".
The Scottish First Minister said for the prime minister to use such language to describe reciprocal arrangements entered into freely by the UK – allowing EU nationals to live and work in the UK and vice-versa – was "really disgraceful"
Mrs May told the CBI's annual conference in London that her plan would provide a fair immigration system that would help young people in the UK get jobs and training.
"It will no longer be the case that EU nationals, regardless of the skills or experience they have to offer, can jump the queue ahead of engineers from Sydney or software developers from Delhi.
"Instead of a system based on where a person is from, we will have one that is built around the talents and skills a person has to offer."
"The Government will wreak enormous damage on London and the UK's economy if it prevents businesses from continuing to recruit workers from the EU after Brexit," said Mayor Sadiq.
The Mayor has repeatedly called on the Government to recognise the benefits that immigration and freedom of movement have brought, and can continue to bring, to our economy and society and to prioritise jobs, growth and future prosperity over politically driven policies to reduce immigration. He believes that qualified freedom of movement of people is the best way to protect economic prosperity in London and the UK in the aftermath of Brexit.
Highlighting the huge economic, social and cultural benefit of immigration and freedom of movement from the EU to the capital, Sadiqsaid that many of the capital's sectors risk being affected if Ministers prioritise reducing immigration.
London crucial sectors – such as construction, tourism and food, are set to be particularly hard hit by the Government's post-Brexit immigration policy.
Later this year, Ministers are expected to back the recommendations of the Migration Advisory Committee (MAC) which in September said Britain should restrict tier 2 visas to jobs paying over £30,000 a year.
Without a system that provides for some level of free movement of labour between the UK and European Union, this would mean that businesses could struggle to fill thousands of key posts.
At present, almost half of all the jobs in the capital across the board pay less than £30,0000. This includes many important roles in businesses such as construction, restaurants, and hotels – and in many cases those roles are currently filled by non-UK EU workers.For example, approximately 46,000 jobs, estimated to be 12 per cent of London's entire construction sector workforce are held by workers born in the rest of the European Economic Area (EEA) earning less than £30,000 per year.
The accommodation and food sector could suffer even worse from a Government immigration clampdown. Around 61,000 jobs, a quarter of the workforce in that sector, are filled by EEA born workers earning less than £30,000.
"London has for centuries been open to people from around the world and immigration has enhanced our city enormously," said Sadiq. "From the clothes we wear, music we listen to and the food we eat, London simply wouldn't be London without the different migrant communities who bring so much to our city.
"We do need a robust, managed immigration system and secure borders, but we also need a system that makes it easier – not harder – to access the workforce that our economy needs.
"But if Ministers are determined to prioritise reducing immigration at the expense of our economic prosperity, they will damage key sectors of the London and UK economies, ultimately at the cost of jobs and growth that benefit all British families.
"Many sectors of London's economy have a high reliance on workers from the European Union. I want homegrown talent to flourish, but I also recognise that, in a global business capital such as London, we need access to a wider workforce. If the Government prevents European workers from coming here to fill roles in areas such as housebuilding, hospitality and healthcare on moderate salaries, we will see a serious impact on our economy and public services.
"It is clear from the various conversations I have with business leaders that they are extremely worried about the future. The Home Secretary needs to remember that he has a responsibility to consider the needs of key business sectors and our wider economy, and to highlight the flaws in the Migration Advisory Committee's analysis."
Other sectors in London that could also be significantly hit by a change in Government migration policy in line with MAC proposals include administrative and support services and manufacturing.
Sadiq visited Brussels and met the EU's chief Brexit negotiator Michel Barnier, urging the EU and the 27 other member states to begin preparing to extend Article 50, the law that paves the way for a country leaving the EU.Next month, Sadiq will take his message to Dublin where he will meet with leading Irish business leaders and senior politicians.