Advertisement

Australian Prime Minister Scott Morrison said that he was open to recognizing Jerusalem as the capital of Israel and moving the Australian embassy there as well as to review the nuclear agreement with Iran…reports Asian Lite News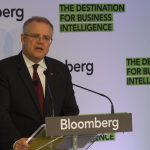 "We are committed to a two-state solution, but frankly, it hasn't been going that well. Not a lot of progress has been made. And you don't keep doing the same thing and expect different results," Morrison told the media here.
Morrison considered that both the creation of the two-state solution between Israel and Palestine and the recognition of Jerusalem as the capital of Israel can be achieved, although he clarified that no decision had been made in this regard, reports Efe news.
He added that the opening of these discussions gives his government the opportunity to apply a practical, innovative and common sense role in trying to work with partners around the world to help broader objectives in the case of the two-state solution.
Australia is following in the footsteps of the US, Guatemala and Paraguay.
Morrison, who made the statement before a crucial by-election in an Sydney electorate where some 12.5 per cent of the voters are Jewish, added that his government has not yet made a decision on the 2015 Iran nuclear deal, to which the current governments of the US and Israel are opposed.
Morrison's announcement would mean a shift in Australian foreign policy implemented by his predecessor, Malcolm Turnbull, who refused to recognise Jerusalem as the capital of Israel and relocate the embassy to that city as well as supported the agreement to denuclearise Iran.