Advertisement

The message of 'Beti Bachao, Beti Padhao (Save Girls, Educate Girls)' reached Britain's shores in 2016 when I commenced my solo drive through the Arctic Circle and 32 countries promoting the 'Beti Bachao, Beti Padhao (Save Girls, Educate Girls)' campaign initiated by The Prime Minister Mr Modi. I have been raising awareness of 'Save Girls, Educate Girls' on international platform through my various drives, supported by my large team of women….writes Bharulata Patel-Kamble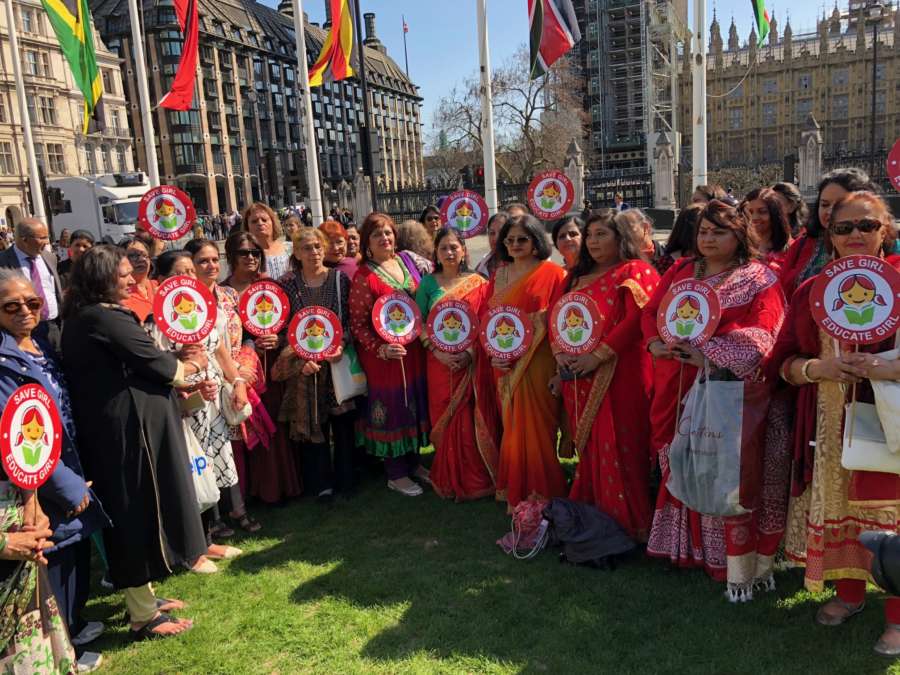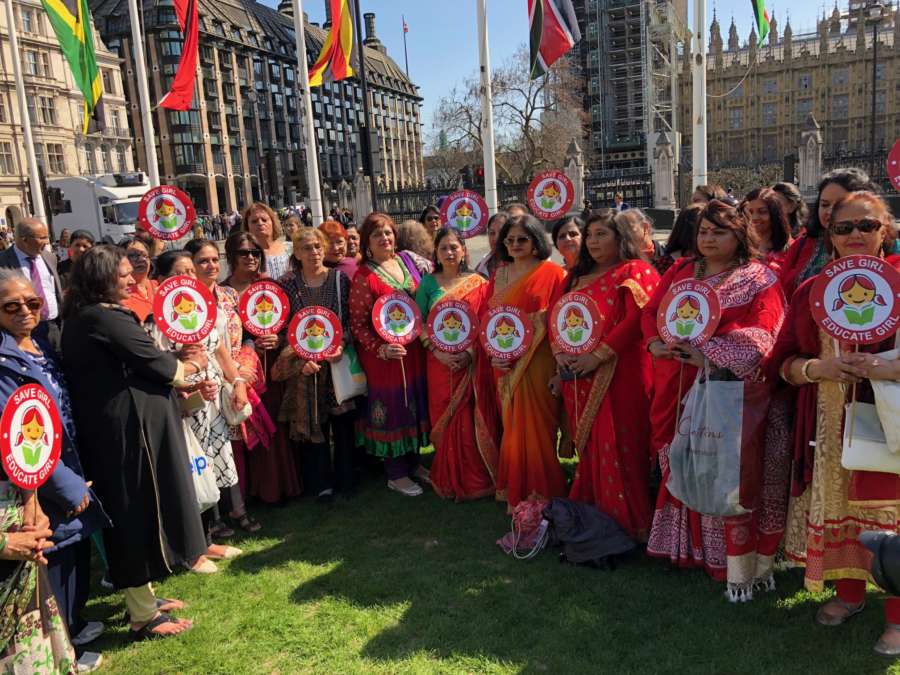 The Biggest ever Commonwealth Heads of Government meeting (CHOGM) held in London this week. It is the matter of pride for Indian across the globe that only Indian PM received a significant audience and welcome, including private audience with the Queen (The head of the Commonwealth) and two bilateral meeting with the British PM Mrs Theresa May.
Over 150 members of 'Beti Bachao, Beti Padhao (Save Girls, Educate Girls)' campaigners, based in UK, descended on Parliament Square in London to give the PM Modi an elated and colourful welcome in UK. Many of those attending had taken a leave from work in advance. As our signature colour red, majority of our team arrived to London in red clothing, with the Beti Bachao, Beti Padhao (Save Girls, Educate Girls) banners and photos of Mr Modi from many parts of UK. The unusual welcome event was led by myself Mrs Bharulata Patel-Kamble and was coordinated by Mrs Sulekha Davda
Indians, both in India and around the globe, have been galvanized to view the Indian future with great deal of enthusiasm, despite the vast challenges Mr Modi continue to face. This is result of his number of progressive initiatives, such as Beti Bachao, Beti Padhao, Swatch Bharat, Saubhagya scheme to provide power to all, his drive for equal rights for women to economic policies and dramatically improved ease of doing business in India and many schemes.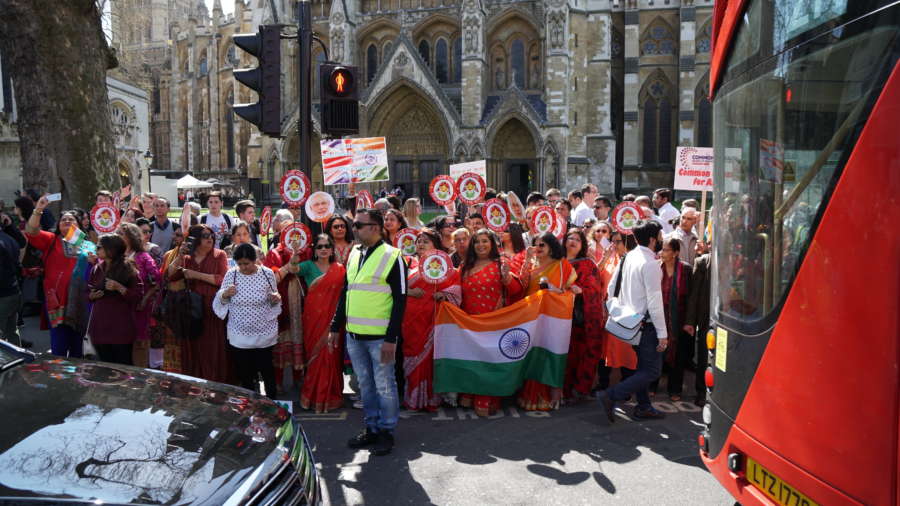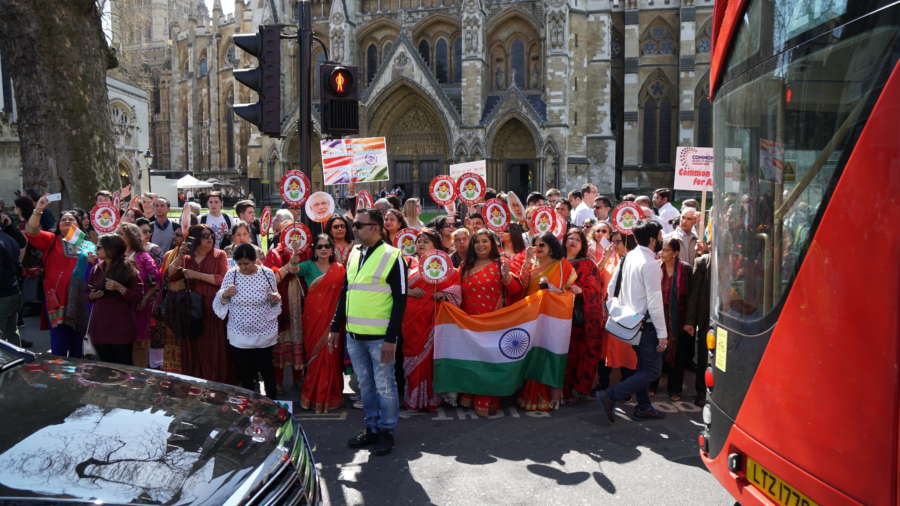 The message of 'Beti Bachao, Beti Padhao (Save Girls, Educate Girls)' reached Britain's shores in 2016 when I commenced my solo drive through the Arctic Circle and 32 countries promoting the 'Beti Bachao, Beti Padhao (Save Girls, Educate Girls)' campaign initiated by The Prime Minister Mr Modi. I have been raising awareness of 'Save Girls, Educate Girls' on international platform through my various drives, supported by my large team of women.
In a recent climate of rape cases, gang rape cases and violence against women in India. We the Beti Bachao, Beti Padhao (Save Girls, Educate Girls) team, UK make following proposal and request the PM Modi ji to consider them:
Capital punishment for all rape cases (all ages).
Dedicated police team at each district police station to handle and investigate rape cases, and any cases of violence against females of all ages.
Introduction of fast track courts system to swift dealing of rape cases and case of violence against females of all ages.
Strict guidelines at all big and small police station to enter FIR for rape cases and case of violence against female of all ages.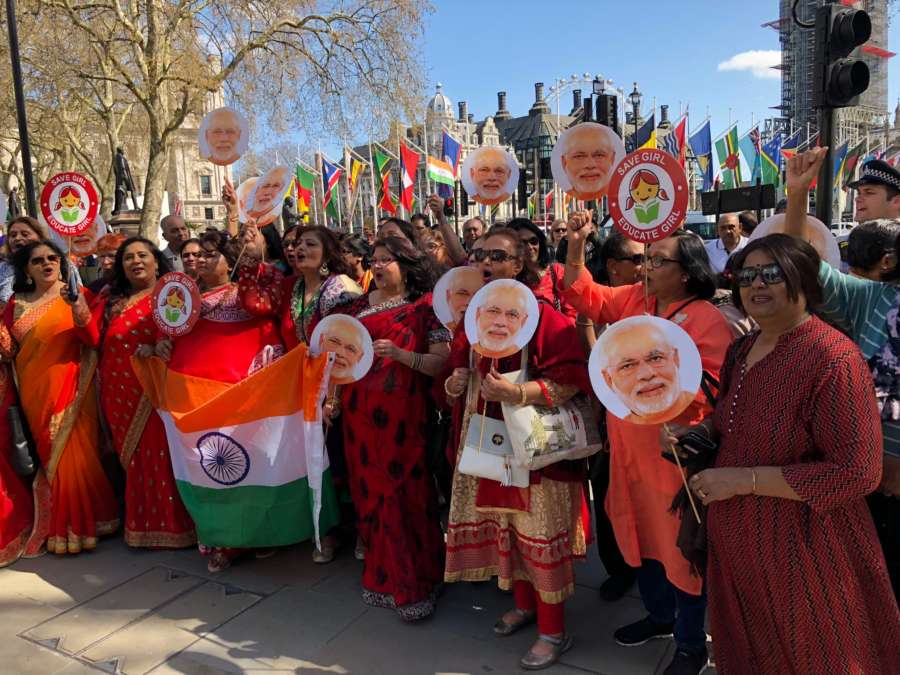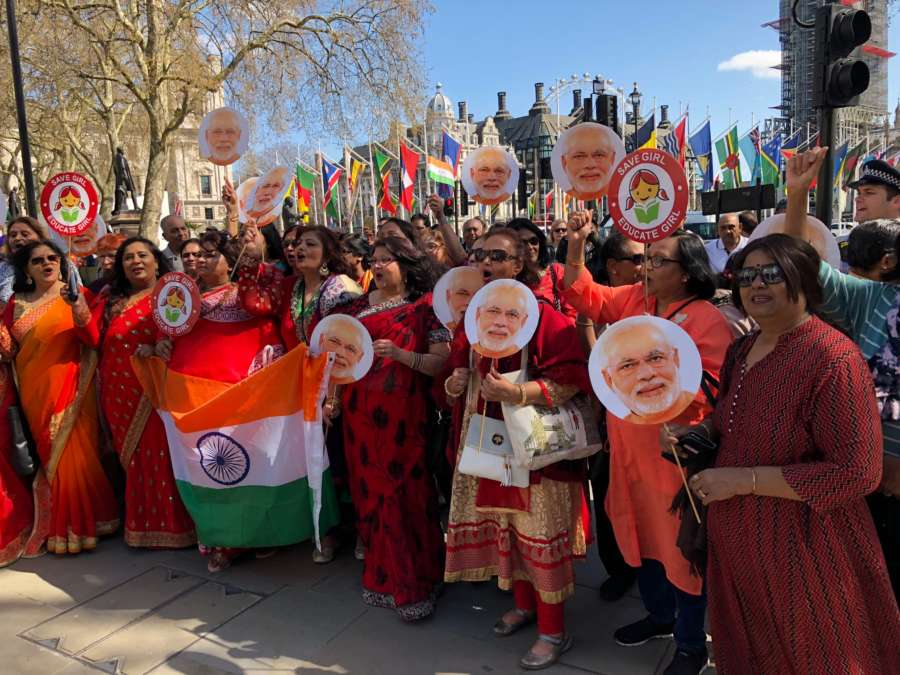 We the Beti Bachao, Beti Padhao (Save girls, Educate Girls) campaigners in UK condemn all rapes, anywhere in the world. Rapes are the most heinous condemnable crimes anywhere in the world and killer of all those innocent girls should receive harsh punishment. Even a single rape is too many and must be stopped.
As the leader of Beti Bachao, Beti Padhao' campaign in UK I state that despite lower rate of rapes per 100000 population compared to countries like USA, UK, South Africa and many Islamic countries; (at least 15 times) higher rape rate in the most advanced and the most powerful countries than India), India seem to be targeted by global media possibly to destabilise India. Whole Hind community and whole India is painted as the most rapist with the help of many exaggerated stories. Everyone seem to be jumping on the wagon with kind of coverage across the globe.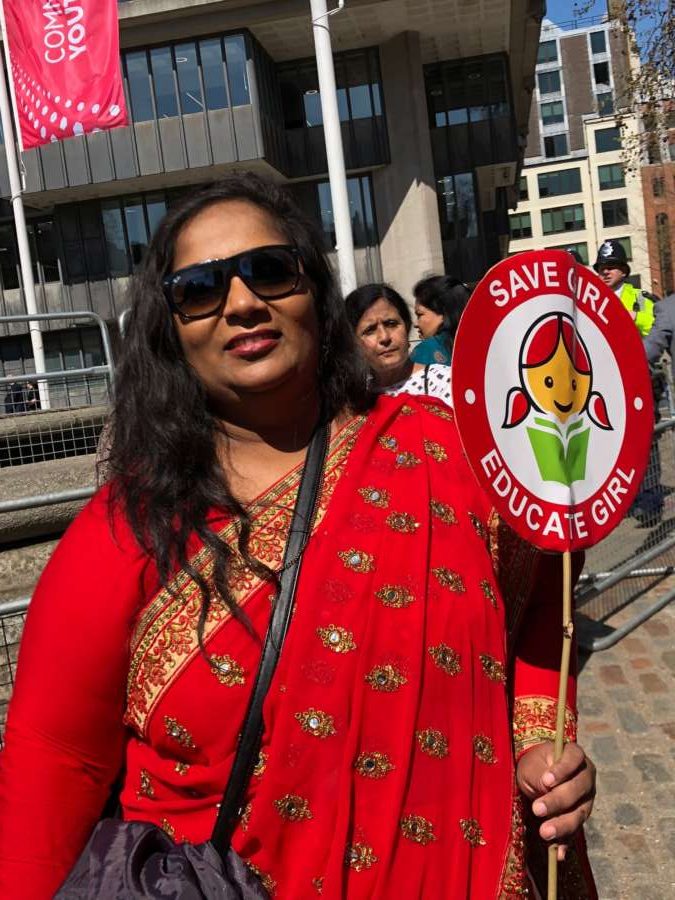 I wish to reiterate that 'Let our genuine outrage against rapes not become a missile to destroy India, whereas the more severe rape problems are elsewhere'. This is the time that we must stand with our motherland, Bharat, work toward the change. Change happens when nation stands together in one! Pointing finger at one person alone is not going to change anything.
For centuries women have been oppressed and put through abuse. There are already strict laws in place for rape. But as the PM Modi ji said,' question your son, like daughters are questioned'. If we want a better society then the change must begin from our own homes. It is high time we educate our boys about equality and women's rights. We are grateful to the honourable PM for speaking up and taking a stance on rapes in India. We are grateful to the PM for providing the assurance that the culprits will be brought to justice.
I condemn the act of silence by the Metropolitan police, London when the flag of India the Tricolour was removed by the anti-India protestor in presence of police, from the display at the parliament Square in London along with other common wealth counties flags. It was shocking to see the police remaining silent on act of criminal damage, vandalism a breach of peace and act an act of disrespect and desecration at a time of commonwealth Head of Government meeting in London. On 19th April 2018 I have written to the Metropolitan Police commissioner and the Mayor of London including sending the copies of my letter to the Prime Minister Mrs May and the Queen demanding urgent enquiry in this matter and take strict action against the culprit.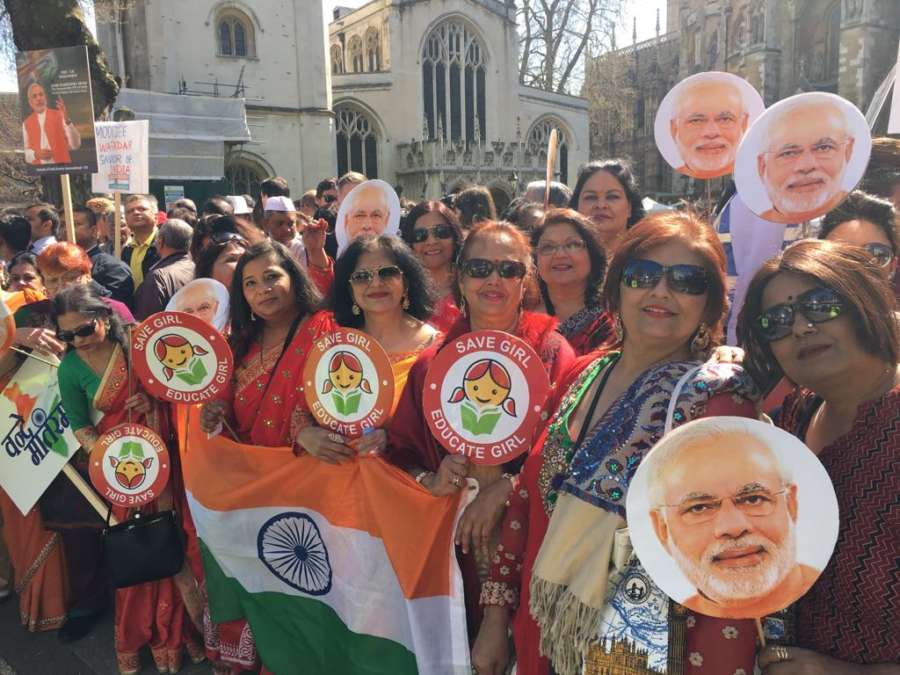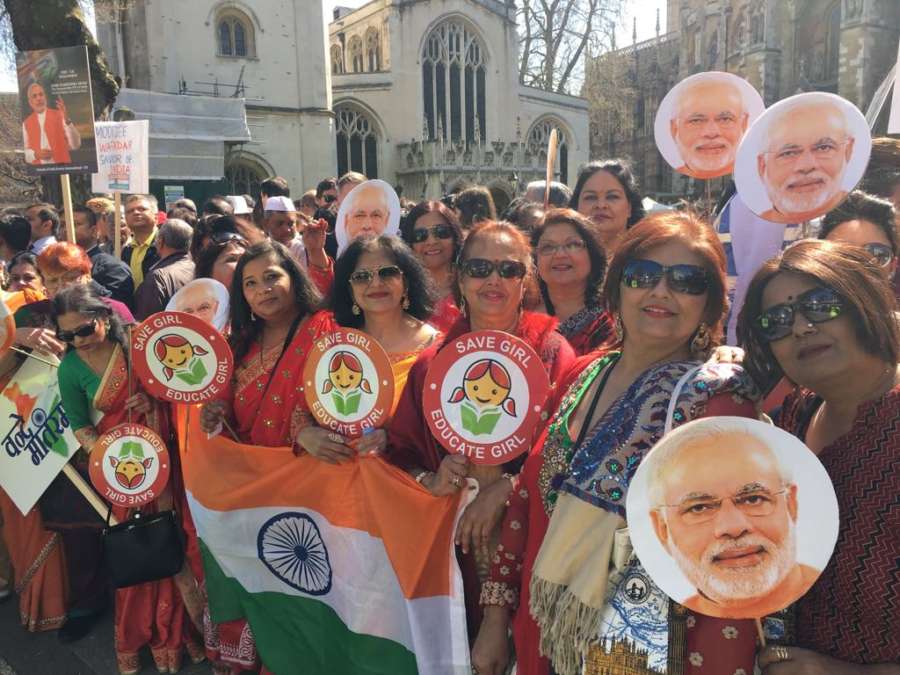 I am known for my patriotism and my current cancer battle could not stop me from organising the welcome for our PM Modi ji. I was at the hospital day before and same evening I had to return back for my scheduled medical attention.
The message, 'Save Girl, Educate Girls', is close to my heart. It's been perceived that Indian women are not active in adventure activities, and I am keen to break that perception through my journey'.
The issue of the empowerment of the girl child is an issue very close to my heart. But I think we must also strive to continually empower ourselves throughout our life – go out, get active, have adventures and push yourself to your limit. It's an amazing way to discover yourself. And once you discover yourself, you become a huge asset not just to your family but wider society as well'.
Be bold and be the change' is the motto that drives me, I feel inequality will continue as long as we allow it to continue, and women need their own space and equal rights to achieve their goals and conquer the world.
(Bharulata Patel-Kamble is the first women in the world to drive alone through the Arctic circle and Transcontinental journey combined. Recipient of National honour by the President of India. Recognised and listed as 112 exceptional achiever females of India as "First Ladies")