Advertisement

Bob Odenkirk started his career with comedy writing, before finding fame as an actor. The "Better Call Saul" star is now all set to retrace his journey as he says he is working on a book about his career…reports Asian Lite News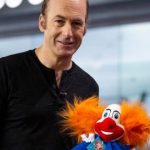 He is also excited about Greta Gerwig's "Little Women". The film is an adaptation of the 1868 novel of the same name by Louisa May Alcott. It follows the lives of sisters Amy, Jo, Beth and Meg and their mother in Civil War-era Massachusetts as they navigate growing up, first loves and Christmas without their father.
The cast include names like Meryl Streep, Timothee Chalamet, Saoirse Ronan, Laura Dern, Chris Cooper, Emma Watson, Florence Pugh, Eliza Scanlon, James Norton and Louis Garrel.
"I am honoured to join a stellar cast to tell the classic American story 'Little Women' as scripted and directed by Greta Gerwig," Odenkirk told IANS in an email interview.
"Other than that, I am preparing many projects, including a book about my career of comedy writing and acting, and then moving into drama and the many different aspects of all that," he added.
Comedy writing has defined Odenkirk's career since the early 1990s with projects like "The Ben Stiller Show", "Saturday Night Live" and "Mr. Show".
When it comes to film, he has been part of "Dr. Dolittle 2", "Girlfriend's Day", "The Post" and "Incredibles 2". The actor has made appearances in shows like "Everybody Loves Raymond", "How I Met Your Mother", "Breaking Bad" and "The Office".
He is now making an impact with the complicated character of James "Jimmy" Morgan McGill in the "Breaking Bad" spin-off prequel series "Better Call Saul", which is aired in India on Colors Infinity.
Following the story of Walter White, "Breaking Bad" is about a terminally ill chemistry teacher turned meth producer, it became one of the most critically-acclaimed TV shows of all time.
"Better Call Saul" follows the story of con-man turned small-time lawyer McGill, six years before the events of "Breaking Bad". It shows his transformation into criminal-for-hire Saul Goodman.
On the show, he said: "The writers have become more confident as they move, more rapidly, between comedy, drama, internal revelation, violence, and pure fun.
"I think, at first, they were really discovering the dynamic range of the show and were respectful of the dangers of flying around too fast, unhinged. But now that our audience has a fuller understanding of the many sides of Jimmy Mcgill, we all can proceed more confidently in showing his range."
How does he see his character's arc?
"I see a guy who lazily took part in con-jobs and using others, then made a concerted effort to do right, then — out of frustration and a broken heart — slipped down further and more intentionally than he had ever gone before.
"He is now compartmentalising his sorrow and aiming, with confidence and conscious effort, to be 'the best', most selfish, mercenary lawyer he can be. But, hopefully, there is still a beating heart underneath it all, and perhaps it will come out again," added Odenkirk, who has directed "Melvin Goes to Dinner", "Let's Go to Prison" and "Let's Do This!".