Advertisement

British Prime Minister Theresa May is to press ahead with her Chequers plan for a soft-Brexit, her advisors said after a meeting of her top ministers at Downing Street…reports Asian Lite News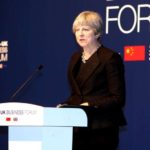 Ahead of the meeting, there had been media speculation of differing opinions among some of her top team, with claims that some ministers wanted her to abandon the plan agreed in July at a meeting at her country retreat Chequers.
An official spokesperson for May said later her cabinet remained fully behind May's Brexit policy, even though it has faced strong criticism from EU member leaders as well as European Council President Donald Tusk.
Across London, opponents of May's Chequers blueprint, including former Brexit secretary David Davis and the Conservative MP Jacob Rees-Mogg were discussing a Brexit report compiled by the think tank, the Institute for Economic Affairs (IEA).
Rees-Mogg described the IEA report as the most exciting contribution to the Brexit debate in months. It put forward a free trade deal, based on one Canada has brokered with the EU, as an alternative to May's plan. It was also hailed by former Foreign Secretary Boris Johnson.
The report, called Plan A+: Creating a Prosperous Post-Brexit UK, outlined how it can deliver a Brexit prize, including introducing a new agreement between Britain and Ireland to preserve an open border after Brexit.
The next big test for both May and the group of Brexit supporting Conservative MPs led by Rees-Mogg, will come this weekend when the party starts its annual conference in Birmingham.
The Daily Telegraph in a commentary Monday night said a "Canada Plus" deal would be no magic bullet and would leave Britain in a state of flux for years.
Meanwhile at the other end of the M6 Motorway in Liverpool, delegates at the Labour Party conference will on Tuesday debate Brexit and whether the main opposition party at Westminster would support a new referendum to decide Britain's future in or out of the EU.
Labour party members are torn between wanting a so-called People's Vote on a final Brexit deal, and demands for a general election favoured by leader Jeremy Corbyn and Shadow Chancellor John McDonnell.
Labour's shadow Brexit secretary Keir Starmer said Labour was deliberately not being prescriptive about a question that could be posed in a second EU referendum, adding it was not ruling out an option of staying in the EU.
There were accusations in some media reports Monday that the Labour leadership has been accused of "betrayal" over the wording of the motion to be debated Tuesday in Liverpool.
The final wording of the Brexit composite motion says: "If we cannot get a general election, Labour must support all options remaining on the table, including campaigning for a public vote."
The wording was decided after a five-hour meeting of more than 100 Labour delegates on Sunday.
The Telegraph said while the majority of Labour members backed a people's vote, senior figures in the party figures have taken opposing views over what it should look like. It points to a tough debate on Tuesday in Liverpool.