Advertisement

British Prime Minister Theresa May has suffered three Brexit defeats in the Commons as she set out to sell her EU deal to sceptical MPs…reports Asian Lite News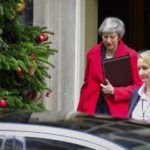 Ministers have agreed to publish the government's full legal advice on the deal after MPs found them in contempt of Parliament for issuing a summary.
And MPs backed calls for the Commons to have a direct say in what happens if her deal is rejected.
May said MPs had a duty to deliver on the 2016 Brexit vote and the deal on offer was an "honourable compromise".
The Prime Minister was addressing the Commons at the start of a five-day debate on her proposed agreement on the terms of the UK's withdrawal and future relations with the EU.
The agreement has been endorsed by EU leaders but must also be backed by the UK Parliament if it is to come into force. MPs will decide whether to reject or accept it on December 11.
May said Brexit divisions had become "corrosive" to UK politics and the public believed the issue had "gone on long enough" and must be resolved.
The Commons supported a motion demanding full disclosure of the government's legal advice, by 311 votes to 293.
The move was backed by six opposition parties, while the Democratic Unionists, which have a parliamentary pact with the Conservatives, also voted against the government.
It came after Attorney General Geoffrey Cox published a summary of the advice on Monday and answered MPs questions for three hours – but said that full publication would not be in the national interest.
Labour had accused ministers of "wilfully refusing to comply" with a binding Commons vote last month demanding they provided the attorney general's full and final advice.
After Labour demanded the advice should be released ahead of next Tuesday's key vote on Mrs May's deal, Commons Speaker John Bercow said it was "unimaginable" this would not happen.
In response, Commons Leader Andrea Leadsom said she "would respond" on Wednesday but would ask the Commons Privileges Committee to consider the constitutional repercussions.
An attempt by ministers to refer the whole issue, including the government's conduct, to the committee of MPs was earlier defeated by four votes.
The privileges committee will now decide which ministers should be held accountable and what sanction to apply, with options ranging from a reprimand to the more unlikely scenario of a minister being suspended from the Commons.
Lib Dem leader Sir Vince Cable said the result left the government "on the ropes", adding: "Theresa May's majority has evaporated, and the credibility of her deal is evaporating with it."