Advertisement

British Prime Minister Theresa May has called on world leaders to embrace globalisation shunning natural patriotism that gets warped into aggressive nationalism leading to confrontations…reports Asian Lite News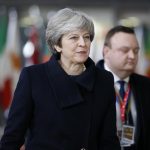 The British leader's address came a day after US President Donald Trump said: "We reject the ideology of globalism, and we embrace the doctrine of patriotism" at the UNGA.
May said the international community has seen "what happens when natural patriotism — cornerstone of a healthy society — is warped into aggressive nationalism, exploiting fear and uncertainty to promote identity politics at home and belligerent confrontation abroad, while breaking rules and undermining institutions".
The way to prevent it involves "global cooperation between strong and accountable states based on open economies and inclusive societies", the British leader addressing the UN General Assembly (UNGA) said on Wednesday.
Only such a cooperation can ensure competition is fair and does not succumb to protectionism, May said.
The best way of resisting protectionism, May pointed out, is to ensure the present century is defined by open markets that deliver for all people, Xinhua news agency reported.
She emphasised that "delivering for your citizens at home does not have to be at the expense of global cooperation, values, rules and ideals".