Advertisement

Taiwanese President Tsai Ing-wen accused China of destabilizing the region and said Beijing was a source of concern for the entire world…reports Asian Lite News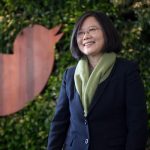 During her speech on Taiwan's National Day, Tsai urged China to adopt a responsible and cooperative stance and stop promoting conflict, accusing Beijing of damaging cross-strait relations and creating serious problems for peace and stability in the region.
She said Taipei would respond by strengthening its security and economic power, Efe news reported.
The President vowed to not "cave-in" to pressure from China but insisted that Taiwan would not seek a clash and promised to maintain peace without giving up sovereignty and the free and democratic lifestyle the country enjoys.
Tsai said that Taipei should strengthen its capacity for resilience to respond better to new challenges and act as a responsible as well as reliable actor in the international community, adding that becoming an indispensable member of the international community was key to its survival.
Taiwanese fighter jets performed acrobatic manoeuvers in the sky during the National Day ceremony, held in the square in front of the Presidential Office Building, where this year's special attraction was the projection of maps designed by local artist Agi Chen on the facade of the palace.
Taiwan has lately been facing increasing pressure from China, which does not recognize the island's sovereignty and independence, blocks its participation in international forums, prevents its allies from maintaining official ties with Taipei and has threatened to use force if Taiwan moves towards formal independence.