Advertisement

Conservationists fear a significant increase in poaching as a result of China lifting a 25-year-old ban on trade in tiger bones and Rhino horns for "medicine and research purposes". They have called for strict plans to protect India's wildlife…reports Asian Lite News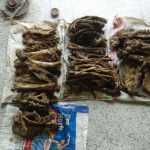 Foresters say Beijing's decision will create an increase in demand for wildlife derivatives, risking animals in India — home to world's 70 percent of wild tigers and 85 per cent of single horned rhinos. The decision will also affect African countries, experts say.
Although China has set up about 6,000 tiger farms, products from there are not so much in demand as through poaching. "Tigers in the farms are much more expensive to obtain than those in wild. It is a proven fact that the consumers have demanded, and prefer wild tigers, for strength and power," Belinda Wright, wildlife conservationist and founder of Wildlife Protection Society of India (WPSI) told IANS.
According to WWF officials, China is currently working to establish rhino farms and is planning to procure them from Nepal and other countires.
Wright says that the announcement by China had affected years of efforts by wildlife campaigners to curb demand for wildlife articles.
"India needs to and will protect its tigers and rhinos. But we need more strict planning for that," says Ravi Singh, Secretary General and CEO of WWF-India.
WWF has urged China to rethink its decision.
Tiger bones and other parts are used in traditional chinese medicines, which have no clinically proven properties. Apart from Tigers and Rhinos, several other animals like Pangolin, leopard, clouded and snow leopards and bear are also preffered by Chinese black marketeers. The bones and other derivaties of some Asian cats like leopards are used for around 36 different products in China, including bone wine.
At least 134 rhinos and 180 tigers were confirmed poached in India between 2013 and 2017. The figures were based on seizures. Foresters, though, believe that actualy figures may be much higher.
"The Wildlife Justice Commission identified two parallel supply routes for illegal tiger trade, a trans-Himalayan route for wild and a Southeast Asian route for captive as well as wild, with the primary destinations China and, to a lesser extent, Viet Nam," an official document of the Convention on International Trade in Endangered Species of Wild Fauna and Flora (CITES) mentions.
According to a report by the Environmental Investigation Agency (EIA), over 5,030 leopards, 1912 tigers, 292 snow leopards and 95 clouded leopards were seized from illegal trade in Asia between 2002 and August 2018.
"The (Chinese) decision is a staggering display of brazen disregard for global opinion and seriously jeopardises the future survival of wild tigers by stimulating demand for their body parts," Debbie Banks, Campaign Leader on Tigers and Wildlife Crime at EIA told IANS.
Saying that raising tigers in a farm requires a lot of clearances and big investments in infrastructure, Banks adds that most poaching gangs find it easier — and cheaper — to trap a tiger in the wild.
Banks, credited with exposing a secret order to use farmed tiger bone in 2013, said that the decision will put the animals from Africa and the Asian range countries at major risk. "It runs completely counter to everything that other tiger range countries such as India, Nepal, Bhutan and Russia are trying to do," she added.
Dipankar Ghosh, director Species and Landscape WWF-India, believes the Chinese decision will have direct consequenses on Indian wildlife. "China doesnt have population of wild tiger or the rhino. India is the nearest source. Trends show that whenever such trades are legalised, demand increases and black market booms," Ghosh told IANS.
According to experts, countries like South-Africa, that has stockpiles of rhino horns but cannot sell them due to agreements, will have leverage to send it to China, thereby increasing demands.
"Basiclly, the Chinese are conferring legal status to trade of captive tigers, not poaching. But Our problem is that you can't distinguish between the two in trade. This puts Indian wildlife at risk," Wright says.
China had banned trade of rhino horms and tiger bones in 1993, under the CITES Convention — an agreement among more than 170 countries.
At a CITIES meeting held in Russia in September this year, demand was raised urging China to ban the leopard trade. The Chinese government said that it was currently considering it and will reply by the end of this year.
Defending its move on tiger and rhino, China said that the new norms sought to regulate derivatives from captivity for research and traditional medicines. The new norm, it claimed, would ensure "protection of the animals".