Advertisement

Amid an escalating trade war between the United States and China, Italy's premier Giuseppe Conte and South Korea's President Moon Jae-in voiced "deep concern" at the danger of resurgent protectionism after they held talks in Rome…reports Asian Lite News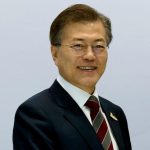 "The leaders expressed deep concern about the threat of protectionism in the world and affirmed strong support for free, fair and rules-based trade and multilateralism," Conte and Moon said in a joint statement.
Conte and Moon pledged to "further strengthen their shared commitment to the expansion of mutually beneficial, free and multilateral trade," the statement said.
"In this regard, the leaders acknowledged the role of the existing Free Trade Agreement between the South Korea and the European Union and agreed on the need to strengthen its implementation."
Moon's two-day visit to Italy through Thursday — the first by a South Korean President since 2014 — is part of a European trip that included France and Belgium, where he attended an EU-Asia summit in Brussels.
Defence, civil aviation and other cooperation accords were expected to be signed during Moon's visit, which was also aimed at garnering support for his diplomatic struggle for peace with North Korea and goal of denuclearising the Korean Peninsula.